Both Mum and Daughter call Lime Tree Village home
Copy link
Val Richards was just 56 when she moved to Lime Tree Village with her husband Paddy, making her the youngest resident ever to buy there. So young in fact that she only just qualified to buy a property here!  
"Our three sons couldn't believe it – they thought it was way too early for my husband and I to move to a retirement village," she said. "However, we felt the time to do it was while we were young enough to put down some new roots, properly take advantage of the lifestyle and get involved with the village's social scene."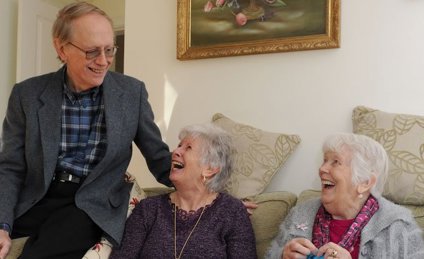 Val, a former teacher, and Paddy, who used to work at the post office, wanted to cut out the 'middle move' when they decided to stop working and go straight into a retirement property. At 65 and 70, they were still very happy they did so.
Val commented: "We saw an advert for Lime Tree Village in a The Telegraph newspaper and decided to pay it a visit while we were visiting my mother, who then lived in nearby Leamington Spa. We thought the village was absolutely gorgeous and fell in love with it straight away!"
At the time the couple owned a large family home in Redhill, Surrey, in the south of England. With the boys grown up and moved away, Val and Paddy were ready to downsize. They had looked at retirement properties in the local area, but felt they would get more for their money in Warwickshire. Lime Tree Village was perfect. 
The Richards bought a semi-detached dormer bungalow near Lime Tree Village's new Polo Field development. The conservatory doors open out onto a patio area which overlooks the beautiful village pond.
"We love our home, it is delightful," said Val. "In the summer we sit out on the patio and enjoy the sunshine, often with a glass of wine in hand. We like to watch the ducks and moorhens going about their business in the pond, it is very relaxing."
Socially, Val and Paddy have become known as two of Lime Tree Village's most proactive residents. Together, they run the community's fortnightly film club, which is extremely popular. They also help organise many of the village coffee mornings, afternoon teas andattend 'themed evenings' in the restaurant, speaker visits and musical events – which are all held at Lime Tree Village.
Val also attends the book club, line dancing and keep fit classes and plays bridge and scrabble. The Richards' have busy social lives and are well connected with other residents, many of whom have become firm friends.
Val added: "When our boys came to visit us here at Lime Tree Village they immediately felt its close sense of community and understood why we love it so much."
The Richards' say that Lime Tree Village's central UK location, in Dunchurch near Rugby, is a blessing thanks to its close proximity to major road networks and railway lines. "The M1, M6 and M45 are all on our doorstep and London is just an hour away on the train, which is very convenient when we want to make trips," said Val.
The Richards are very happy but their story doesn't end there. At 88 years old, Val's mother, Maureen Abbott then followed them to Lime Tree Village!
 "I lived in Leamington Spa for more than 50 years," said Maureen. "However, when I lost my husband, Val's stepfather, it became difficult for me to be there on my own. I struggled to maintain the house, keep it clean and look after the garden. I had looked at developments locally but was not impressed. Inspiration came – Lime Tree Village!  I decided that's where I wanted to be!" 
Maureen had visited her daughter at Lime Tree Village many times and knew she would be very happy there. She was familiar with the community and already knew quite a few people there, so the transition was made easier.
"I picked a lovely apartment with a dual aspect sitting room, which I love," she commented. "I am settling in quickly and already making the most of the retirement village lifestyle, having joined the craft group and the film club. I also attend many of the coffee mornings held in Cawston House, the historic mansion that incorporates a variety of communal facilities."
Maureen says, "I feel safe and secure at Lime Tree Village. This gives my other two children great peace of mind as they know Val and Paddy are close at hand. I appreciate having various healthcare needs met onsite – chiropody, physiotherapy, a weekly doctor's surgery and the security of emergency support from a qualified Nurse if I ever need it in the future.
Other practical care and support, including domiciliary care, are also available should I ever need a little more assistance to maintain my independence in later life."
Val said: "I am glad Mum is here, it is lovely having her so close and I think we're all agreed that Lime Tree Village has given her a new lease of life. We see each other regularly and have been on several trips together, all organised by a fellow resident. We would have no hesitation in recommending this lifestyle to anyone!"
Back to top