Keeping active and walking for wellness
We all know walking and getting outside are great for your mental health and physical well-being. Walking can strengthen muscles, help maintain the correct weight and lower the risk of heart disease, stroke, colon cancer, and diabetes.  
Guidance for older adults is 15 minutes a day light exercise, this doesn't have to be a long walk every day, it can be anything that suits your lifestyle. It's better to make it part of your regular everyday routine, this can stop exercise from feeling like a chore and turn it into something enjoyable. In fact, that's one of the many benefits of gardening in retirement, just one example of a great way to weave activity into your day. 
In our communities, many residents are very active and have done just this, forming walking clubs, going out every day, and just generally enjoying an active retirement.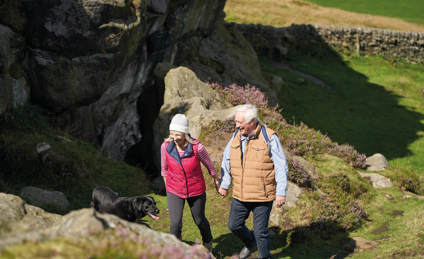 Establishing our own walking groups
In our Castle Village retirement village community, where Lyn 83, has lived happily for 10 years, and because of her commitment and belief in physical exercise, she started a walking group 6 years ago.  Castle Village is situated on the edge of the Ashridge estate, which is an area of outstanding natural beauty.  There is plenty of scope for interesting and scenic walks, usually walking from the village, but occasionally getting the bus to a nearby town and walking back through the countryside, or sometimes taking the car to a nearby beauty spot and walking from there.  A coffee stop is always popular!
We currently have about 12 people who walk weekly, and Lyn comments that she tries to organise the walks depending on who is walking that week and their different walking abilities, with the walk usually lasting for up to 2 hours.  It is a great way for people new to the community to help them discover the local area and to socialise with the other walkers.  She strongly believes in experiencing the therapeutic and mental benefits of our wonderful countryside and the huge advantages in keeping active along with the social enjoyment.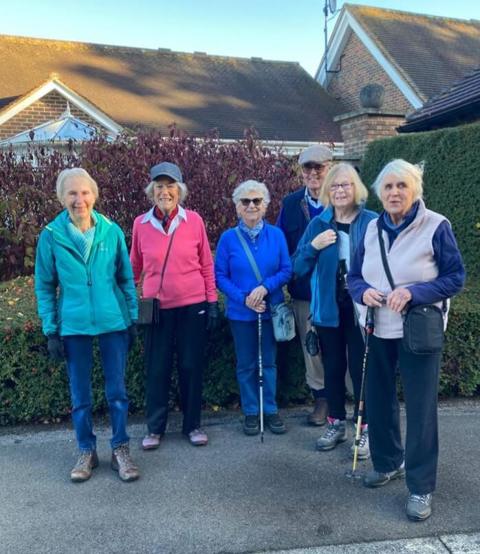 Branching out to the wider community
Down in West Sussex, Mollie lives in Charters Village, on the outskirts of East Grinstead, and is chair of the local Ashdown Rambling Club. The club founded in 1961 has a membership of about 120.  Mollie says, " Despite the club name, our walks are not limited to the Ashdown Forest, a local area of wild heathland which inspired the tales of Winnie the Pooh.  We are on the borders of Surrey, East and West Sussex and Kent so we cover a wide area including both the North and South Downs.  We usually organize full-day walks twice a week on Wednesdays and Sundays ranging from 8 -10 miles and a half-day walk on a Wednesday morning of approximately 5 miles.  Most of our walks end with tea and cakes provided by one of the group. We sometimes start from Charters Village, there are some lovely walks from here.  I have enjoyed walking all my life and hope to continue to do so, even if the body at times complains!"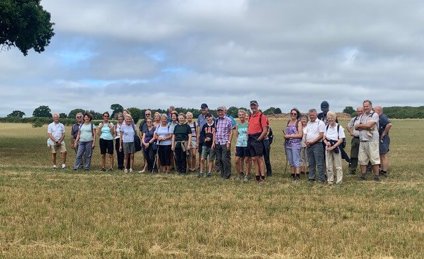 Enjoying the nature around us
Mia has been a resident at Park Place for 9 years. When she retired, she started regularly attending the gym, swimming, and walking. She loves to walk around the countryside directly from Park Place, in Lincolnshire and finds it gives her real purpose. She regularly walks five or six miles through local woodland and goes out with a walking group. Mia comments, "I love to be outside in the fresh air and the countryside, I always have. I walk every day unless it rains!" 
The benefits of walking in nature seem to be endless. Every year researchers are finding more evidence that nature and walking have significant improvements on your mental and physical health. With the growing amount of evidence available, the smart move is to engage in nature walks more often. To start with, natural sunlight helps to keep your circadian rhythm in check and fresh air in your lungs helps your body's natural defence systems fight viruses, bacteria and fungi. In our newest community, Gradwell Park, in East Sussex, we've built a nature walking trail.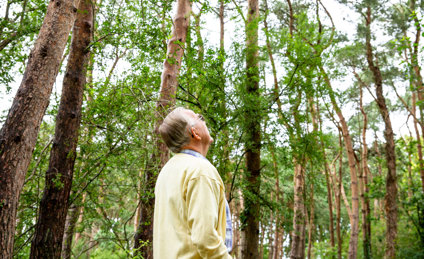 Janet Stead, our Health and Wellbeing Coach at Gradwell Park, comments, "If you are spending too much time in front of a computer screen, the TV, or scrolling through your social media platform then a more natural environment is just the tonic as that fresh air really does have restorative properties and boosts your energy levels. If you don't believe me, just give it a try
If an active lifestyle in one of our retirement communities sounds interesting you can see all our properties for sale and properties to rent, even better come and join us on one of our ever popular open days, and experience the lifestyle for yourself.
Back to top