Youngsters make history as construction of Thrive Living collection development at Chester gets underway
Chester's young people made history this week as they buried a special time capsule containing their ideas for the city's future. The special ceremony was to celebrate work getting under way on our integrated retirement community in Boughton Heath, Chester – part of the new Thrive Living collection designed to put older people at the heart of our communities and helps them to live amazing, purposeful, active lives for longer.
Who got involved?
The moment was a poignant way to mark the start of construction of the retirement community, which will be whole of life net zero carbon. The new community – being built on the disused former Beechmoor Garden Centre on Whitchurch Road – will feature 155 apartments across six villas, alongside a range of amenities including a restaurant, café and wellness area open to people from the surrounding area as well as residents.
The school children were joined by local community representatives, special guest Cllr Matt Bryan, Cabinet Member for Housing, Planning & Climate Emergency at Cheshire West and Chester Council, and the construction team from main contractor Elliott Group.
Speaking at the ceremony, Will Bax, Chief Executive Officer, commented,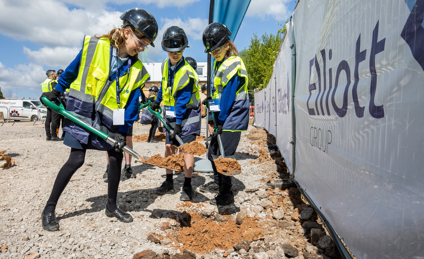 We're incredibly excited to have broken ground on building our newest community in Chester. It's clear that we are not alone in wanting more positive life choices for older people. We've been delighted by the high level of local interest and engagement. It's clear this is as an extension to the city, and we've shaped our proposals with facilities and amenities that respond to the community needs. Today was about bringing the community together to mark a major milestone. But also make sure what we build is relevant to younger generations. We loved hearing the views of the talented pupils of our two local schools on the importance of sustainability and how we can all make the changes we need to deliver a healthy planet. The fact that their grandparents will have the chance to support this future by moving into this net zero carbon community was an interesting talking point.
Delivering for Chester
Set to open in late 2024, the new community will deliver a £39m boost to the local economy, creating more than 300 jobs through the construction process.  It will also increase spending in the local area by £1.5 million every year and create 30 full time jobs.
Guests gathering on site heard how the community will become an exemplar of sustainability as a whole of life net zero carbon development. Through high performance construction materials, efficient heating and hot water generation via air source heat pump technology, renewable energy generation on site as well as offsetting carbon emissions, the buildings will achieve net zero carbon emissions when in use. A sustainable transport hub will provide cycle hire and electric vehicle charging points. One of those guests was Councillor Matt Bryan, Cabinet Member for Housing, Planning & Climate Emergency who commented,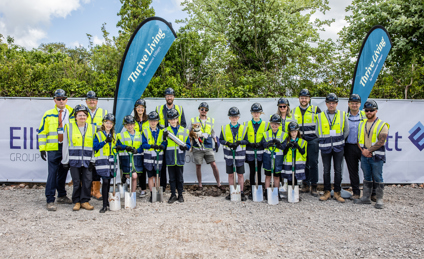 If we're going to address the climate crisis, we need to get the younger generations fired up about a greener future and the difference that they can personally make. What better way than bringing them to a working construction site that is already helping raise the bar when it comes to sustainable development in Chester.
Find out more about this Thrive Living collection development in Chester and all the great benefits it is set to bring to the community here.
Back to top