Helping keep their move on track, Lee & Jean Joy are "springing" for joy!
For 28 years, Lee and Jean Joy loved living in their Jacobs Well bungalow. They were active and popular members of their local community with great neighbours and friends close by. However, in time their ability to maintain their large garden and tackle more challenging DIY jobs became a little too much for them both, and the couple began to discuss selling up and moving somewhere that was smaller and more manageable.
Despite the emotional attachment to their home, both Lee and Joy decided it was time for a move, so they booked a viewing at Mayford Grange - a beautiful Retirement Villages Community only 2.2 miles away from their Jacobs Well bungalow.
Lee comments,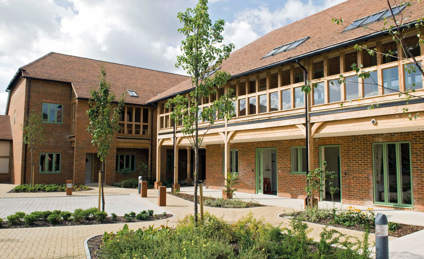 Making the decision to move wasn't an easy one, we had so many happy years in our bungalow, and we knew it would be difficult to leave all those memories behind. For my wife Jean, the garden was her sanctuary, and she was always out pruning and planting, but it was getting harder to maintain it to the standard she was used to. The hedges outside were very tall and trying to keep them under control was getting impossible. I was a DIY fiend and always doing jobs around the house, I just lost my passion for it and things were getting too much for me also
Staying Local
"We wanted to stay near Jacobs Well as we didn't want to leave our local friends or lose our social life," said Lee. "We both decided that a retirement community would be ideal as we wanted the security of having someone on site, plus living in a property with little or no maintenance was very appealing to us both. We already knew about Retirement Villages as my own parents lived at a Retirement Villages community in Cranleigh for several years," reveals Lee. "We knew first-hand how exceptional the facilities were at Retirement Villages and it was an exciting prospect for us to be living there."
Following a successful second visit, the couple fell in love with a south-facing ground floor apartment. "The apartment was beautiful and the outlook onto the gardens was stunning. We both really wanted it and as soon as we got home, we started to make plans with a local estate agent to get our bungalow on the market. We had a good amount of interest, and soon accepted an offer which enabled us to proceed with the purchase of our Mayford Grange apartment. But, after several weeks everything went quiet and nothing seemed to be happening," explained Lee. "I contacted the agent and was told our buyer had dropped out. We were very disappointed and extremely worried that our Mayford Grange apartment was also going to fall through as a result."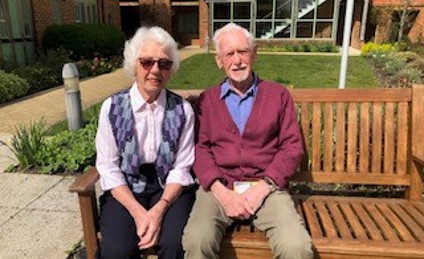 A great alternative
After a call to Emma, the sales consultant at Mayford Grange to discuss their predicament, Emma suggested that instead of re-listing their bungalow with the estate agent, they should consider their chain-repair service offered through Retirement Villages Part-Exchange partner, Spring. "Emma explained what the chain-repair service was and instead of having to wait to find another buyer, Spring could step in and buy our home instead. It sounded like the perfect alternative, so we agreed to go ahead and find out more - we are so glad we did," said Lee. "We hadn't heard of Spring before and so I did my homework, visiting their website and reading reviews, everything looked great and was reassured. As we are older, we do worry a lot about getting involved in scams and being victims of fraud, so I was glad to use a company who came recommended and work in partnership with Retirement Villages, we felt we were in safe hands. Spring didn't ask us to sign any sort of contract or pay anything up front, which again made me feel reassured. They offered us a great price as we were part of a complete chain, so we accepted without hesitation and the sale started quickly, I was very impressed indeed."
All going to plan
Within a few weeks to suit their own timescale, Lee and Jean's sale of their bungalow was nearing completion and all was on track. "It was reassuring to know our sale was guaranteed to complete, Spring really knows what they are doing, and their pricing was very accurate. The price I got from Spring for our Jacobs Well bungalow was not far off what I'd have got on the open market, and with all the fees included, it really is a fantastic way to sell a home." said Lee.
Included as standard in Spring's chain-repair and Part-Exchange service, is the 28 days license to occupy feature. This gave Lee and Jean an extra 28 days after their sale had completed to access their bungalow and move into Mayford Grange at their own pace and without any stress. "The free license to occupy was so helpful for us," said Jean. "Although we didn't need the full 28 days, we are so relieved we had it included as during the move we forgot to empty the cupboard that housed our microwave. Thankfully as we still had the keys, we let ourselves in and picked up the microwave!"
Now all settled into their new apartment, Lee and Jean are loving life at Mayford Grange. Jean comments,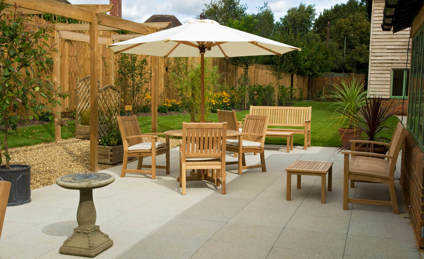 We adore it here and every morning we have a family of Coots that come up to the patio and say good morning to us. Lee wants to try and train them to come up for food on command with a bell. We've already visited the restaurant several times, met our neighbours, it's a fantastic place to live with a nice crowd of people. I've started playing table-tennis too, so you can do as much or as little as you like here. I'm so glad we made the decision to move, it's been good for the both of us and we've settled in well. We would have lost the apartment if it wasn't for Emma recommending Spring and we want to thank all the team for all they did to get us here.
Back to top