Wonderful residents at Roseland Parc spring into action for the Ukraine
We've all been saddened by events unraveling in Ukraine. Some of the fantastic residents in the Roseland Parc Village community wanted to help in a practical way and have got together to start a knitting circle making a selection of baby blankets. Lyn, a Roseland Parc resident has helped to coordinate the efforts.
It started with a request for any spare wool and knitting needles. Many residents, already keen knitters, got together what they could find in their homes. They gathered in the lounge after coffee morning and started to knit. They returned for afternoon tea later that day and started again. They have mostly been knitting squares and plan to join them together to make a variety of patchwork blankets and scarves. The group is growing day by day and about 20 residents are in involved so far, but more are joining all the time. Once the work is complete the blankets and scarves will be dropped into the local Tregony collection point set up by the wider community to coordinate all the local contributions.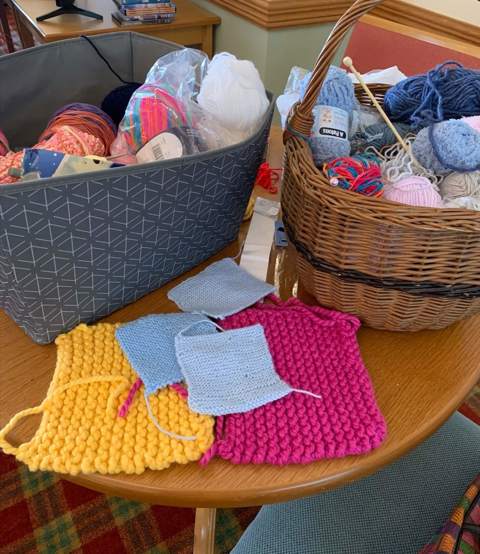 Lyn, a Roseland Parc resident comments, "After almost 50 years I have picked up knitting needles again, however, as its for such a good cause I felt that I'd like to help.  It was wonderful to see the enthusiasm of the residents taking up needles after so many years and with such gusto"
Anna Armstrong, Activities Coordinator comments, "The atmosphere has been really upbeat, seeing our community come together to support others has been very inspiring, I've even joined in myself."
Back to top