Buying an apartment off-plan was the perfect solution for Sir Moray and Lady Stewart who relocated from Fife to be closer to family.

Retired couple Sir Moray and Lady Stewart moved into a beautiful two-bedroom ground floor apartment in  Arun House, Elmbridge Village in Cranleigh and are delighted with the lifestyle in this vibrant community.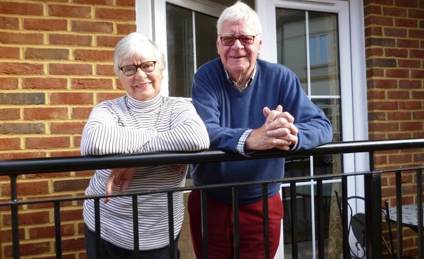 The couple originally met at Keele University; Dorothy was studying to be a teacher, while Moray was undertaking History and Economic studies, leaving with a first class degree.
They went on to marry after finishing university, and moved to London to embark on their respective careers. Dorothy was a history and politics teacher at a comprehensive school in Surrey, whilst Moray went straight into the civil service. He joined the Air Ministry, later amalgamated with the MOD, and rose to the position of 2nd permanent secretary of Ministry of Defence, where he received his knighthood.
When Sir Moray and Lady Stewart went on to have a family, they left the hustle and bustle of London city life and moved to Ashstead, near Leatherhead to bring up their three boys, Alasdair, Douglas and James.
In 1996, Moray retired and the couple moved to a large, rambling four-bedroom property in the coastal village in Elie, Fife, where they stayed for a number of years.
A Family Affair
Their sons remained in England, across Cranleigh, Presbury and Weybridge, Manchester. It was their son, James who lives in Cranleigh with his wife Anita, who were instrumental in initially bringing Dorothy and Moray to the village. Anita is a "Cranleigh girl' born and bred, and knew of the village and its reputation, along with people that had moved there.
"Our son first asked us to come and see Elmbridge Village around two years ago. My first thought was that it was such a pretty and well-presented village, but at that time, my husband was put off by the title 'retirement village'", explains Dorothy.
Dorothy understood why her sons were in favour of the move, as the distance meant that they only saw each other during holidays and high days, and they could see changes in their parents that made them worry.
"I understood the anxiety", explains Dorothy, "my parents also lived away from me."
As time went on, Sir Moray and Lady Stewart felt compelled to be closer to their sons and five grandchildren, three of whom live in Cranleigh, and they headed back down for another look.
During this time, Dorothy and Moray spent two weeks staying in a local B&B in Bramleigh to explore the area and its amenities.
The Search Begins
"We spent a great deal of time looking at the area and other residential developments, but we were very clear on the type of property that we wanted. We decided that our next home would be a new build, as we didn't want to undertake any renovation work," said Dorothy.
Other new-build residential developments were viewed, but the couple deemed them 'too urban' and lacking in community and facilities, as having come from a village, it was of the utmost importance that their new home was set within scenic grounds and had a community feel.
Two nights of the couples stay in the area were spent in Elmbridge Villages' onsite guest suite, giving them a chance to immerse themselves in the lifestyle enjoyed by the residents.
"When we came back to the village, the one thing that really stood out to us were the village grounds, they are so pretty!" Dorothy muses, "It's beautifully landscaped and each block of properties has its own private garden areas, along with communal spaces."
The experience of staying at the village provided the confidence required, and the couple decided to purchase a new luxury apartment in the Arun House development, off-plan.
Going Above and Beyond
The process of buying and selling the respective properties wasn't a particularly smooth process for Sir Moray and Lady Stewart. Having bought off-plan and chosen a plot meant that there were deadlines, and their current property had to be sold at an unfavourable time in order to meet these.
The property was sold quickly, and while their new apartment in Arun House wasn't yet finished, the couple were still able to begin their life at Elmbridge Retirement Village.
Dorothy explains, "When our house sold, we still didn't have a property to move into, but this didn't prove to be problematic as Retirement Villages were extremely accommodating. They were extremely generous and let us stay in the guest suite for a month at no expense!"
"We couldn't have asked for more support from the team here, they are so kind and approachable, they will do all that they can, and if they can't do it, they find someone that can!" said Dorothy.
A Valuable Lifestyle
Sir Moray and Lady Stewart have fully immersed themselves in village life, enjoying the gardens and grounds on a daily basis:
"We walk the grounds everyday, its wonderful to be able to appreciate them without being required to do any maintenance!" said Dorothy.
As well as the great outdoors, the couple meet with the other residents in the bar on a Friday evening for a communal gathering, and Dorothy attends the weekly Medau class.
It's not just the village activities that Dorothy and Moray enjoy; they also regularly take pleasure in everything Cranleigh has to offer.
Dorothy said: "It's very refreshing to be with your peer group, people that understand and support you, everyone here is so warm and friendly, but we also like to experience life outside Elmbridge Village. Cranleigh is very vibrant and full of young people, we noticed that immediately, we enjoy participating in everything that Cranleigh has to offer."
Moving to the village has meant that Dorothy and Moray get to spend a great deal of quality time with their grandchildren.
"Our grandchildren that live locally are eight, ten and twelve, and we enjoy meeting them from school once or twice a week to have them over for tea, it's very enjoyable," said Dorothy.
When it comes to advice to others that are considering moving to a retirement village, Sir Moray and Lady Stewart recommend that you take the time to visit at least two or three times, taking the time to look at a variety of properties, use the 'Try Before You Buy' option to get a taste of Village life and meet with the residents.
Dorothy explains, "We urge people to not leave it too late. It's nice to come as a couple, and build a support network and friendship group."
Dorothy concludes that while the initial expense can seem a little 'frightening', it offers an enjoyable and valuable lifestyle, which is worth the investment.
Back to top