Residents delight at homegrown hanging baskets for Charters Village
This year the grounds team at Charters Village decided to grow all their hanging baskets from seed in the village greenhouse and it's been a brilliant success.
The team at Charters Village believes wholeheartedly in sustainability and has been doing everything they can to work in a circular economy. This year they decided to up-cycle last year's hanging baskets and grow the plants from seed rather than opting for the easy approach and buying new.
The baskets contain a number of different flowers including fuchsias, which are a favourite of David in the grounds team. The baskets have added a real pop of colour all around the grounds. They've been located around the clubhouse and at the entrance to Charters Towers to welcome residents in.
Nigel Walters, Village Manager, comments, "I'm really proud of the team for creating something so beautiful from scratch. We're always looking for ways to work more sustainably so this was a natural choice for the grounds team."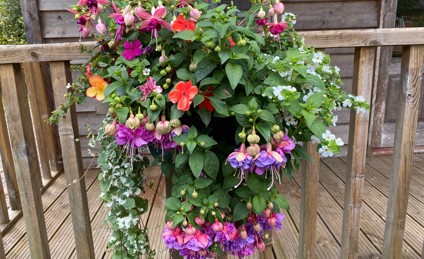 Back to top