On Wednesdays we have community coffee mornings
Life is always busy for the community at Castle Village as Carole, a Castle Village resident, can attest too. She organises the weekly, Wednesday coffee morning. The morning is open to all residents and provides a great opportunity to catch up on each other's news in the community.
Held in the bright and spacious lounge within the main clubhouse, this well attended event often spills into the conservatory and in the summer months even onto the terrace.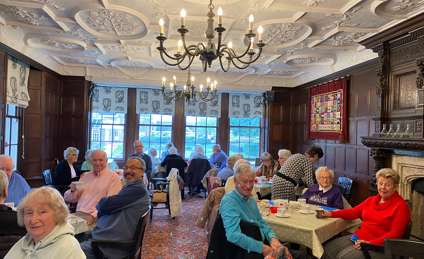 The event is open to all and provides a welcomed opportunity to catch up on each other's news. Some residents attend every week, whilst others dip in and out depending on how busy their week is. Coffee morning is just one of the events residents at Castle can enjoy and take part in as part of the wider community at the village.
Carole says, "The morning is something to look forward to each week, I enjoy organising it because it helps to keep me active and brings the village community together"
Karen, Village Manager, says, "Coffee morning is great opportunity to see everyone and helps the community to come together as a family. I look forward to it every Wednesday."
Back to top