Independent Retirement Living in Castle Village brings new friendships
When Susan and Jeanette moved to Castle Village during the lockdown, there were lots of rules in place. As the rules eased and people were able to start meeting up again a new friendship blossomed for them both.
Susan moved in in March 2020, when you were able to walk on the grounds but the lockdown rules meant you couldn't go out anywhere. Her bungalow has a bright conservatory that catches the sun most of the day which was a real boon during the time. Her daughter came to visit and they often walked together. Similarly, Jeanette moved in during December 2020, another period of lockdown. She moved up from Dorset to be closer to her son and two grandchildren and has a lovely apartment overlooking the grounds.
Once the rules eased the ladies started going to the communities' weekly coffee morning and met on the way one day. They discovered several shared interests and now go to all sorts of clubs together and have even enjoyed a holiday to Lake Maggiore in Italy.
Both have traveled extensively, but neither had been to Lake Maggiore. It was their first holiday together. As it was such fun, they are planning a trip to Norway to see the Northern lights later this year as well.
Aside from the clubs in the community and holidays, they enjoy exploring the towns and villages locally and have been on the search for the best coffee shops. On Saturday morning they take advantage of the local bus service that stops outside Castle Village and goes into Berkhamsted town centre. It's a very easy journey and gives them the opportunity to visit the weekly market. Whilst they both drive, they agree sometimes it's easier to just take the bus when you have a few things you want to pick up.
Susan comments, It's lovely to have someone to travel with. It gives you a real push to continue exploring."
Jeanette comments, "We treat each other to lunch on our birthdays somewhere in town, it makes for a good time."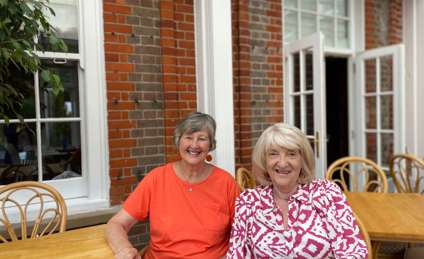 Back to top