2020 certainly has made a large number of us question a lot of things in our lives – not least what the future holds.
If it's made you take stock and think about what you want your future to look like, then read on.
Here are eight very good reasons why you might want to consider a retirement village and the difference it can make to your life – In a positive way.
1. Being part of a community
One of the hardest parts of this year's unfolding situation was the Government's lockdown rules which meant enforced isolation for some and the fact many families were cut off from each other.
This is where a supportive 'community' comes into its own, especially as you get older. Community spirit has shone through at all of our villages, from daily staff calls to residents, fresh meal deliveries to their door, help with online shopping and groceries delivered from our own village stores to weekly newsletters and emails, residents own social media group with VE Day celebrations (socially distanced of course) and even Zumba classes and quizzes via Zoom!
2. Making new friends
Being part of a community means you have the opportunity to meet neighbours and make new friends. I always remember one resident who moved into our Lime Tree Village telling me he had been astounded and thrilled that after a week he had made 50 new friends from the village.
It's not about living in each other's pockets, far from it - our communities much like the wider community allow you to come and go as you please with as much privacy and involvement in community life as you please. But, there's also plenty to do if you want to, which means a great social scene, some new pursuits and activities to try and the inevitable chance to make some great friendships.
3. Security is essential
Being part of a retirement community means an environment that has a friendly team of staff on hand and where people look out for each other but not in a 'nosey neighbourly' way!
Grounds and properties are maintained and kept secure; there's a discreet alarm in every home with 24/7 monitoring. It's good to know that 'feeling safe and secure' was a top reason that residents gave for choosing this type of community lifestyle in our last survey.
4. Support in the village
If you're serious about mapping out your future and realistically considering all of your options, you may be wanting to properly future-proof yourself. That might mean thinking about what happens if one day you may need some additional support in your home.
That's where our domiciliary care partners, many of which are based in our villages, can help. Some of our villages also have access to residential and care home suites which is important to be aware of as part of your research.
5. Peace of mind for you and your family
As we get older and as in life, making decisions early can alleviate some concerns you may have. Things like 'do I have support if I need it', 'what would happen if there is an emergency as I live alone'? 'I don't know my neighbours anymore, I feel lonely'. Living in a retirement community means a lot of these worries disappear.
6. A lifestyle that resonates with your outlook
Our communities are all about places where people can thrive and grow, try new pursuits and ventures. They are positive environments where people share a common thread around wellbeing and enrichment.
If you're someone who enjoys trying something new, likes to seize the day and has a 'glass is always half full' approach to life, then I would recommend you come and explore our communities a little further.
We joined the Lime Tree coffee morning recently to ask people for their feedback on the lifestyle – here's their views:
7. Plenty of help to move
If the thought of tackling a move right now fills you with dread, why not take advantage of our Easy Move scheme? Through our links with the Senior Move Partnership you will get all the help you need with planning your move and on the day itself.
Ann Heap, for instance, moved into our Avonpark community in Bath earlier this year, at the height of the social distancing rules, and found it no bother.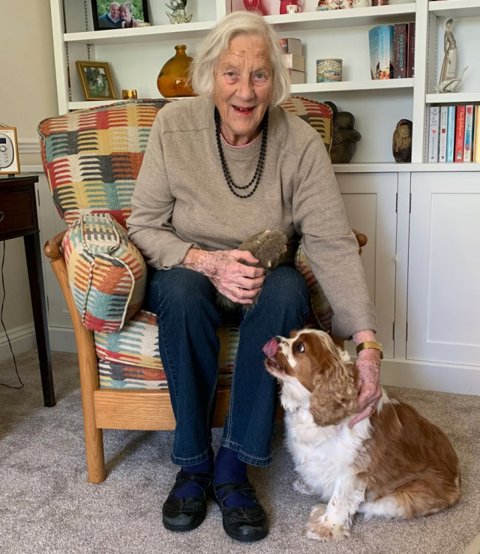 8. Don't miss out on some great savings

You will no doubt have heard about the stamp duty threshold being temporarily increased by the Government until 31st March 2021, meaning no stamp duty payable right now on the first £500,000 of all property sales.
It's a sizeable saving for you already but we will match your saving in monetary terms and take it off the price of your house purchase, if you buy a new home with us. That means a potential total saving to you of £30,000 on a £500,000 new home. This is a summer offer and runs out very soon so don't miss out if you're keen to get moving. Terms and conditions apply.
Get in touch
If this article has resonated with you and you feel that one of our retirement communities would be  something you would like to explore further, please do get in touch. You can speak to one of our sales team direct, use our website to request a brochure, ask a question via Live Chat, or there's plenty of social distancing guidelines in place to ensure that a village visit for your own personal viewing is safe, and can be booked and arranged today.
If you're keen to take the next step, here are the best ways to contact us:
Tel: 01372 383950
Email: info@retirementvillages.co.uk
Website contact page
Back to top