Warwickshire couple thrive in Lime Tree Village's retirement community
Copy link
Lime Tree Village, in Dunchurch, is more familiar to new residents 84-year-old Maurice and 86-year-old Patricia Green, than most villagers.
Maurice explained: "I was the chairman on the Dunchurch Parish Council when some space became available for a new development.
"It used to be an industrial research place and then Retirement Villages Group put forward their proposal for Lime Tree Village and we backed it wholeheartedly. I've watched it grow from the very beginning – I never thought myself and Patricia would end up living here!"
Finding thrills in downsizing
Maurice and Patricia lived in Merseyside for 15 years, Yorkshire for 20 and they'd been in Dunchurch for 30 years. The couple lived in a large four-bedroom detached property with a double garage and a garden with a quarter acre plot.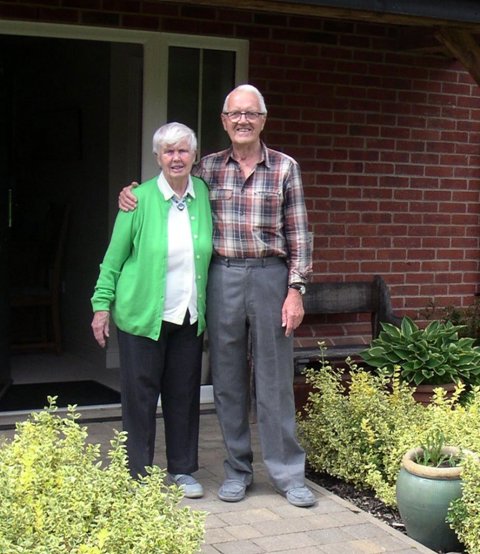 They decided it was time to move into a more manageable property as they were getting older and bought a two-bedroom cottage at Lime Tree Village.
Maurice and Patricia said: "We couldn't live in our four-bedroom property for much longer. We did have a garden that we loved but we were unable to keep it in the condition I wanted to – and this was the same for the house.
"You see so many old people living in properties that are far too big for them and we didn't want to end up living in a grotty property. Besides, we now have lovely grounds to enjoy and we don't have to maintain them!"
Downsizing meant the pair had to evaluate which possessions they wanted to keep and the ones that they no longer need.
The couple said: "Getting rid of things that we collected together for 30 years was traumatic but once it was done, we felt liberated. You don't want to live in a midden for the rest of your life, you need to be brutal and think long and hard about what you actually need. Think to yourself, my lifestyle is changing, what do I need and what will look right?"
The Retirement Village concept
The major reasons that Maurice and Patricia moving to a retirement village, was because of the luxury lifestyle and the focus on independent living.
The couple explained: "We read about the retirement village concept and fell in love. We finally found something that meant we could remain as an independent couple for considerably longer, but we can also have the support if we need it.
"It's great that we don't have to recruit cleaners for ourselves – we get one hours cleaning a week and our bedding washed once a week, which makes all the difference. The gardeners are great too, we've got exactly what we wanted and regularly enjoy relaxing walks around the woodland."
Staying close to family
The Greens had been living in Warwickshire for over three decades, so they were thrilled to find a retirement village right on their doorstep. The location allowed them to keep in close contact with their friends and a commutable distance to their sons.
They said: "We have two sons, one in Suffolk on the coast and one lives in Yorkshire. Living here means that we can be roughly halfway between the two sons – and they both think the village is great! And we have so many friends in Dunchurch, so it's great that we didn't have to move far away from them."
Good friends become good neighbours!
When the Greens said they didn't want to be far away from their friends, they didn't realise they would be quite so close.
Patricia explained: "Our friends Margret and Brian moved in before we had even thought of coming to a retirement village and they even joked about us being neighbours. And then by chance our favourite property turned out to be the house next door!"
The coincidences don't stop there either, Patricia and Maurice are championing the tight knit community feel at Lime Tree Village.
Patricia continued: "More of our friends are now moving into the property opposite us! They were absolutely convinced that they'd never move but it all changed after they fell in love with the show home, at the village."
Social butterflies
Maurice and Patricia are certainly no strangers to the clubhouse. They're enjoying the active lifestyle and opportunities the social hub is providing them with.
Maurice said: "Patricia and I go down for coffee most days, we go to the films, the cheese and wine night on a Friday and Sunday lunches."
He continued: "I also take part in plenty of activities including bowls, keep fit class and I've met lots of people I didn't know beforehand playing snooker and table tennis.
"I wouldn't have done all these activities where I was living before, I didn't have the time or people to play with, but you make plenty of those contacts here. I've even entered a putting competition!"
Tranquil environment
The couple thrive in this environment, they adore the choice to be as active as they want to be or to simply relax within the surroundings.
They said: "This is such a stress-free environment, it's so beautiful and quiet. You can't hear any traffic; you just hear the birds singing. There are so many places to sit where you can just relax and admire your surroundings. We like to watch the ducks on the lakes, it's so calming. But the best part is, you don't have to worry about any of these externals – it's all sorted for you and that's such a load off your mind. "
Open minds
The pair strongly recommend the village and advised: "The older you get, the more fixed your attitudes become – but you have to keep an open mind and appreciate what a retirement village could offer you.
"There's such a great selection of people here that you can interact with, but you have enough space so that you're not in each other's pockets!"
Back to top