The choir is back in action for Jubilee Celebrations
Lime Tree Villages choir has been back performing as part of the Jubilee celebrations at the village.
The communities celebration stretched across the whole weekend, but the choir's performance was a major highlight for everyone. The choir hasn't been able to perform together since pre-Covid so there was much merriment from them and the audience to see them singing again.
Paul and Helen Baker, choir administrators, commented, "In pre-Covid times the LTV Choir (with their leader and accompanist, who come in from outside the village) met every Wednesday from September to May to practice singing "in parts" and gave concerts twice a year.  In March 2022, after a long break during which any large gathering was impossible, around 20 residents started to rehearse fortnightly in the hope of preparing a summer concert.  On 1 June we invited residents and their friends to join us in Cawston House, to start the Village's Platinum Jubilee celebrations.  The choir sang a number of pieces, interspersed with songs, which the audience joined in enthusiastically.  The event was overall a great success and a collection at the end raised a welcome £200 for the local Air Ambulance."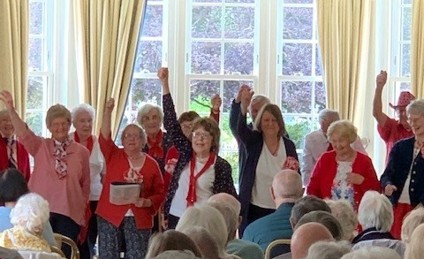 Back to top