Roy and Mary Conner had lived in a large bungalow in Porthleven for 25 years before they bought a two bedroom first floor apartment with two balconies overlooking the gardens at Roseland Parc.
"We have no children and we both felt that as we were approaching our 80s we should find somewhere that required less maintenance but still provided us with the independence we wanted to get out and about."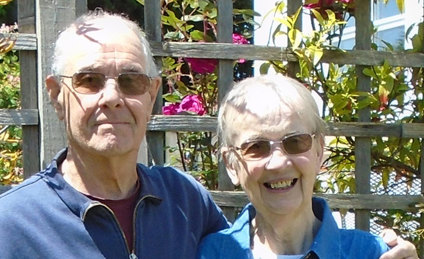 We didn't like any of the other retirement operators and loved Roseland Parc, the facilities and the location. The biggest challenge was decluttering from our old bungalow and downsizing.  It has taken us a while to get used to it, but now we love the environment." 
Mary spent much of her career working for News International, rubbing shoulders with Rupert Murdoch, Piers Morgan, Kelvin McKenzie and Rebekah Brooks.  Roy, was an engineer by profession and now enjoys model-making and they both like to use the excellent bus services to and from Truro, St Austell and other parts of Cornwall.
"We loved our garden but now have the privilege of enjoying the grounds here without the daily chores of having to manage it.  And we love the swimming pool, gym, restaurant and especially the library.
"We have real peace of mind here too, which is very important as you get older. There is always help at hand should we ever need it. And we can dip in and out of the various social events and groups as and when we want to.
Roy spent many happy years in Cornwall as a child, which is why the couple chose to move to Porthleven in the first place.  They also had a boat and just loved the Cornish way of life.
"We have the best of both worlds now.  We can still enjoy all that Cornwall has to offer without the daily chores of maintaining a property – here at Roseland Parc it is all done for you."
Back to top