Residents enjoy the woodland walking trail at Gradwell Park
Starting at the village entrance, looping down through the properties and on to follow the woodland tree line at the edge of the village. The newly established woodland nature trial is proving a hit with residents in the community.
It is a well-known fact that walking everyday is a sure tonic to maintain wellbeing and fitness levels in later years. The woodland nature trail, which is just over quarter of a mile, has given residents an opportunity to take in the changing seasons around the village. There is an interesting mixture of trees and plants to see along the route. As the sun is beginning to shine bulbs, including daffodils, are starting to poke their heads up all around the village.
Every Friday morning there is a guided tour along the route for those that wish to have company and a chat whilst stretching their legs. The tour is led by Janet, the communities wellbeing coach. Janet is on hand to assist residents with any wellbeing requirements and is a keen advocate for getting outside in the fresh air everyday.

Audery Kelly, Village Manager, commented, "The nature trail is a very welcome addition to the amazing wellbeing facilities available to all our residents in the community."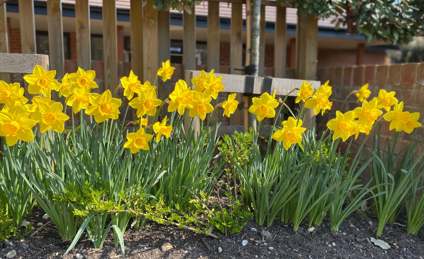 Back to top