Rachael Murphy, who is 86 and a resident of Park Place. Born in Manchester, moved to Boston and got a job at a department store, where she worked for 20 years.
Rachael and her husband John retired to their home in Boston. After John sadly passed away in 1995 Rachael lived there independently, but as she grew older coping with the rigors of day-to-day living became a struggle.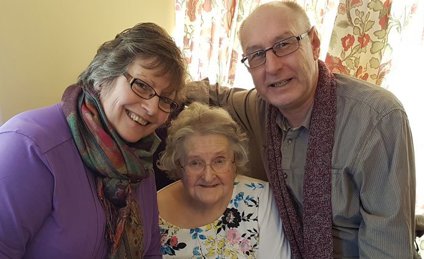 "I was having problems moving and had a number of falls," she explained. "After the last one I ended up in hospital for six months and my son David suggested I could get a much better quality of life at Park Place."
This was an agonising decision for Rachael, who is an active and independent person. She didn't want to leave her home and at first she resisted the move, but deep down she knew it was the right choice.
David, 64, said:
"Mum found it difficult to look after herself and was afraid she might have another fall. We were all extremely worried about her and felt that she needed access to full-time care. Park Place was only intended to be an interim placement, but Mum loved it and decided to make it her permanent home."
In fact, having made the move to Park Place Rachael was relishing the fact that, actually, she could enjoy a high level of independence while simultaneously getting the support that she needed.
"At Park Place I don't have to worry about anything, I felt as though a huge weight had been taken off my shoulders," she said. "The staff here are wonderful and provide me with personalised care services that meet my needs exactly. If I want to go out they accompany me and the food is delicious, I get to choose three lovely meals every day from the menu and don't have to cook them myself!"
David and his wife Janice (58) now have the peace of mind that Rachael is being properly care for by a professional team. Janice commented:
"There is a good vibe here at Park Place and everybody is always smiling and cheerful. We can rest safe in the knowledge that Mum is receiving her medication in a timely manner and has friends around her."
By friends Janice is namely referring to Rose (99) and Vera (91), two other ladies who live at Park Place. Nicknamed the 'terrible trio' by residents and staff, the cheeky three socialise together in the care home's lounge and are renowned for joking around with anyone who crosses their path.
Now an established resident at Park Place, Rachael is also enjoying the range of events and activities taking place at the care home.
"There is lots to do and get involved with here from bingo, singers and magicians to summer garden parties," she said. "Beauticians regularly visit to manicure my nails and style my hair, plus there is a chiropodist who helps me with my feet. We have special events at times such as Christmas too, which are enormous fun."
Rachael receives daily phone calls from her cousin, who David jokingly says is more like her sister as they are so close. He commented: "Janice and I are delighted with the high quality care Mum receives at Park Place. All the staff go above and beyond to ensure she is well looked after and I can't thank them enough for this."
He added: "Mum loves her room, which has an en suite and offers wonderful views overlooking the home's beautiful gardens, and frequently tells me how happy she is. There is a family-like atmosphere at Park Place among its residents and staff, which spills over to the residents' families too. We have made friends with relatives of other people that live in the home and chat with them when we visit."
Back to top