Elmbridge excellent value for money, says resident.
Pip and Jean Calvert have been married for 64 years and have three daughters. When Pip retired from a career in the Navy (in cruisers, submarines and in command of a minesweeper) and with British American Tobacco, which enabled the couple to see many parts of the world, they settled in Petworth in 1982.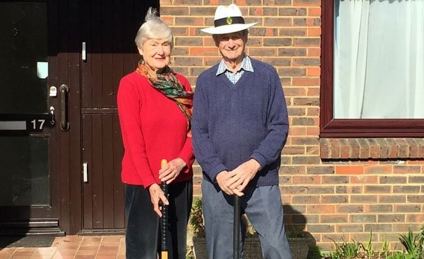 "We lived happily in Petworth for 30 years, but as we got older maintaining what was a fairly large house and garden became more and more of a chore," said Pip. "We decided to downsize, but wanted to stay as active and independent as possible to keep ourselves mentally and physically fit. We knew this would enable us to make the most of later life."
The Calverts heard about Elmbridge Village in Cranleigh, which offered a wide range of social events and activities, and they decided to pay it a visit.
Pip commented:
"We were immediately impressed as there was so much to get involved with such as croquet, table tennis, bowls, bridge, Mahjong and scrabble. We also noted that there was a restaurant, shop, an allotment, and regular bus services to Guildford and the centre of Cranleigh."
Elmbridge also had the advantage of being close to the couple's friends in Petworth, as well as two of their daughters who lived not far away in Lewes and Uckfield.
Pip and Jean realised they wanted a slice of Elmbridge Village and bought a bungalow, completing the move in 2013.
"Our bungalow, which is spacious and easy to keep warm and clean, overlooks the croquet lawn and is wonderfully quiet," said Pip. "We felt the price we paid for the property was very reasonable."
The Calverts also pay a monthly service charge, but Pip is keen to emphasise that this is excellent value for money. "The monthly charge covers everything from insurance and utilities to regular services such as cleaning, laundry, building and garden maintenance and repairs, window cleaning and external maintenance. We worked out that it comes to less than our total monthly bills in our last property."
When they moved into Elmbridge Pip and Jean found that everybody was extremely welcoming and they settled in quickly. True to their word, they involved themselves in the village's busy social scene and soon got to know people.
Pip explained:
"There is a brilliant social life up for grabs here at Elmbridge, but you need to participate in events and activities to make the most of it. Living in a retirement village is entirely what you make of it. My wife and I really enjoy the parties held at Elmbridge, especially those around Christmas time, as well as meeting up with other residents for a chat or a game of Bridge."
The couple are as Pip says, "fit as a fiddle", but get great peace of mind from having access to care and medical support should they ever need it. Indeed, this was once put the test when Jean woke up one night with agonising stomach pains.
Pip called Elmbridge's 24-hour team and a nurse arrived within minutes. She quickly assessed Jean and called an ambulance to take her to hospital. It turned out that Jean had appendicitis and needed an operation, which was undertaken successfully. "I was very grateful for the support provided by Elmbridge when this happened and during Jean's recovery," said Pip.
"We have a very pleasant life here and come and go as we please," added Pip. "These are exciting times for the village as the new development Elmbridge Manor is now open so we can expect an influx of new faces, who we will warmly welcome into our community."
Back to top