Moat Park Resident Ken raffles hand painted artwork for Ukraine appeal
Ken Miller, 98, who is a Moat Park resident has raffled his painting of a Greek Meteora for the Ukraine appeal raising £292.
Ken has enjoyed painting for most of his life and particularly likes to paint landscape scenes in watercolour. This particular watercolour shows the Greek Meteora Holy Monastery of Rousands St. Barbara at Thessaly. Ken admires the way it's built into the backdrop of the mountain with only the blue ocean to look at on the other side. Ken and his wife Shirley wanted to make a contribution to the Ukraine appeal so decided to raffle his painting to encourage residents in the community to donate. The painting reminds him of many visits to Greece over the years. Retirement has given him more time to dedicate to his painting and he leads a weekly art group in the community for all those interested. There are various pieces of residents artwork on display around the village clubhouse.
With the help of Lisa Marie, Village Manager, to promote the raffle, all of the residents got involved and have raised £292 as a community towards the appeal. The raffle was drawn after a fish and chip lunch on Friday. The winner was Louis, she was absolutely delighted. She intends to hang the painting in her hallway, alternatively if there isn't enough space it will take pride of place in the village clubhouse.
Ken commented, "I wanted to do my part to donate funds towards the appeal and this felt very fitting."
Lisa Marie, Village Manager, commented, "The residents have really come together as a community to raise these funds and it's incredibly generous of Ken to donate a piece of his own work."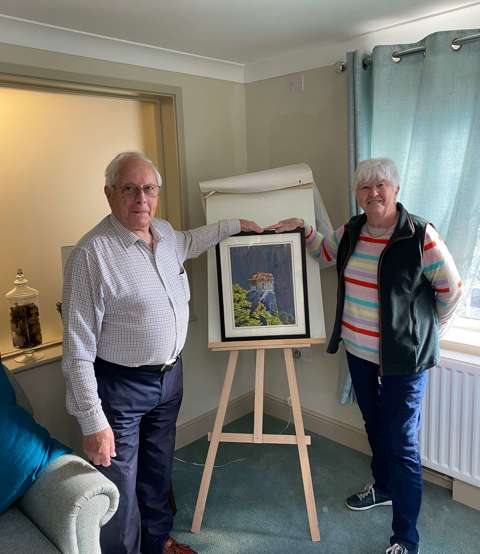 Back to top