Meet Paul Zetter – who found the perfect retirement lifestyle at Elmbridge Village.
Copy link
Paul Zetter moved into Elmbridge Village in March 2019 is delighted with his new one-bedroom apartment.
Originally from the East End of London, Paul enjoyed a colourful life leaving public school in 1941 to join the British army, where he served for five years and fought in the war. When he returned to London, he joined his father's business running Zetters Pools and they took the company public in 1965.
By the time Paul officially retired in 2000 the company owned cinemas, printing firms, bingo halls and hotels all over the UK.
Paul was married for 65 years to Helen and they had 2 children, a daughter who lives locally in Sussex and a son who lives in California.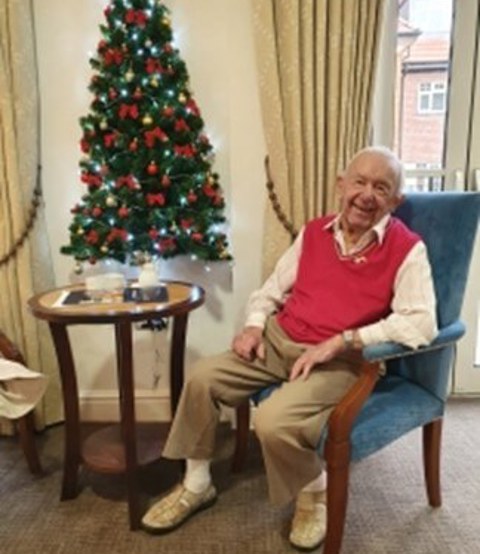 Keeping close to family
The couple had been living locally in Ifold, in a four-bedroom cottage on their daughter's farm, when Helen passed away in early 2019. It was his daughter who heard about the village and encouraged Paul to come and take a look around.
Paul said: "We looked at several retirement communities including ones in Billingshurst and Horsham. Elmbridge was the best we saw. It's only 15 minutes from my daughter, so she can keep an eye on me!
"It's absolutely delightful here. I didn't want to live by myself in a four-bedroom house, which was too large for me. I don't really like living alone, but if you going to do it, it's nice to do it here."
Enjoy a restful retirement
Paul takes life at a more leisurely pace these days – he was formerly Chairman of the Sports Aid Foundation for 10 years helping to secure funding for young athletes with international potential, which, he says, he found extremely rewarding. Paul was subsequently awarded a CBE in 1981 for his services to sport.
Reflecting on his new life in the village, Paul added: "The atmosphere here is delightful. The village is full of kind, friendly people. It really is a happy place to be.
"The staff are outstanding. Elmbridge is a model of how to treat elderly people. If you can't be content here, then you can't be content anywhere.
"I like to attend the resident meetings and join the daily coffee mornings and I visit the restaurant on a regular basis. I do get a lot of visitors and I'm able to take them to the restaurant which serves good food at moderate prices."
A keen writer, Paul likes to write poetry and has published four novels, some of which are available to borrow from the village library!
Invaluable services
Paul enjoys the fact that there is a myriad of services available for residents, to make life easy.
"The village healthcare lead is very handy and it's wonderful to have a doctor that comes to the village – it's an invaluable service. Gardening and maintenance jobs are also taken care of, and when I needed help with a stuck key someone came to help straight away," he explained.
Paul has no regrets with his move to Elmbridge Village and offers anyone looking to move into a retirement community this advice….
"Grab the opportunity to move whilst you can, it's delightful here and a wonderful place to spend the years ahead."
Why not sample the lifestyle for yourself with a complimentary overnight stay? Read more about this opportunity here…
Back to top