Marian is our resident shop volunteer at Elmbridge
The shop in Elmbridge Village is an essential resource for many residents, who choose to use it for a pint of milk and a loaf or bread every day, for others it's a place to pop in for a chat and a quick idea for supper. So when the village team reached out to the resident community to ask for volunteers to help it run smoothly and provide the best service possible, they were very grateful that Marian, who has living in the community for 7 years, decided to step up to the mantle.
Marian loves volunteering and has done so most of her life. She likes to keep busy and finds it very fulfilling to know she's helped others, even if it's in a small way. After she retired Marian took a Christmas job at M&S, and ended up staying on for two and half years as she enjoyed it so much. It was there she learned many of the skills vital to running an effective and efficient shop for customers. She was involved in stock rotation and staff rotas, as well as becoming an expert in working the till and severing customers.
She works alongside Gemma, in the village team, to ensure the smooth running of the shop. Since she started they are now able to take and deliver orders for residents who need extra support and aren't always able to get out and about. Marian works two days a week in the shop and hopes more people will start volunteering as it's a get way to make new friends in the community and give yourself a sense of purpose.
Marian comments,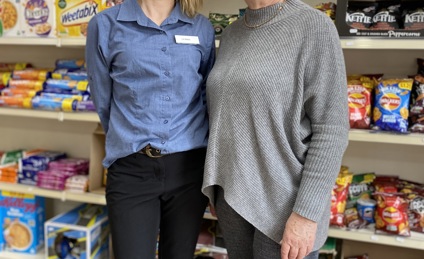 Elmbridge is such a friendly place to live, it's a community, like having an extended family to reach out to whenever you need them.
Back to top