Julie brings ballet to Elmbridge
Julie and her husband Martin are some of Elmbridge's newest residents. They have moved into a beautiful bungalow that overlooks the walking meadow in the community. So far they have been enjoying the grounds and meeting other residents in the clubhouse for coffee, or taking advantage of the various events and clubs that are on offer. But Julie has a special skill and passion for ballet; as a trained ballerina she has been sharing these skills and her passion with the community in Elmbridge.
Julie was interested in ballet even as a small child. She first saw some ballerinas attending classes aged three and asked her mother if she could start lessons for herself. She loved everything about ballet and became immersed in it.
Aged 13 she left school to attend the Bush Davies School of Ballet as a full-time student and boarded there in the term time. The school was based at East Grinstead, in what is now another community in the Retirement Villages collection, Charters Village.
Julie fondly remembers her time at the school commenting,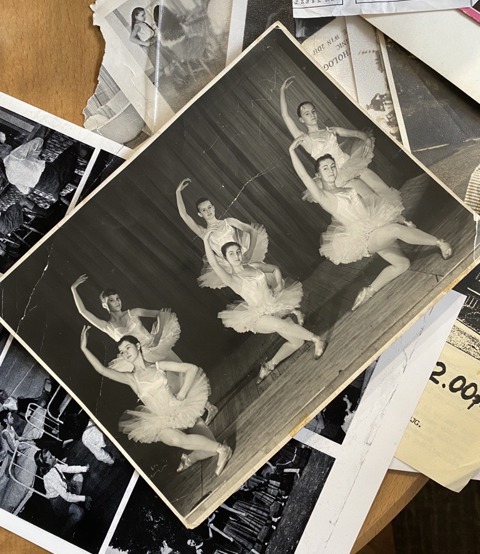 Charters Towers was the main building where we had classes and we dined there too. In the summer we played in the foundation at the front of the house. Many people scratched their names into the brickwork in what is now the conservatory.
Julie was a student at the school for four years, during this time she passed every possible exam and became the first student in the school to pass O level Maths. Julie took part in many performances and shows during her time at the school and even taught some of the students when any of the regular staff were unavailable. On graduating she took on the Leonora Budden School of Dancing, in Southampton, where there were 150 students studying.
It was here she met her wonderful husband Martin. The local Operatic society were producing  the show Oklahoma, a show which has an extensive "dream ballet" in the middle and Julie was chosen as "Laurie" the principal dancer. Martin had also joined the society as a singer. The society didn't have any male dancers so they lined up the young men and Martin was chosen, to his dismay, to dance the part of Curly. When they met it was love at first sight. Julie taught Martin to dance for the show, they married soon after.
Julie handed over the school to two of her students when Martin was appointed as manager of Esso Refinery at Milford Haven and they moved to Wales There were  400 pupils by this time. Whilst she loved teaching, dancing in shows was her real passion. Her favourite show to perform is Fiddler on the Roof.
Julie was a wonderful teacher and performer, we've been married so many times, if you count the number of times on stage too! I really am very lucky. We have two sons and a daughter plus four grandsons and a granddaughter.
Their move to Elmbridge village was prompted by a need to live somewhere less isolated. At their previous home, down a country lane, there was no local transport or shops, meaning they sometimes got snowed in during the Wintertime; something they wanted to avoid in the future.
At Elmbridge, they have better public transport links if they don't want to go out in the car they don't need to as the bus comes right to the clubhouse several times a day, connecting them to many places including Cranleigh. The community is important too, with their children spread across three counties, they wanted to have a community and network of friends and support nearby and Elmbridge has provided just this.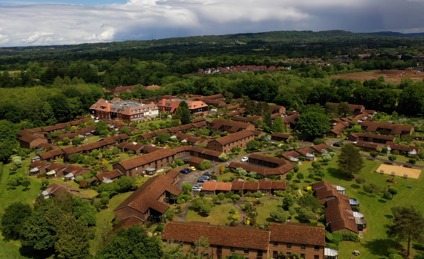 Julie has started offering ballet classes in the hall at the community too. She brings a barre for residents to use and has been sharing her skills and knowledge with gentle exercises. Lots of people have been attending and joining in so far. Some haven't done any dancing before so Julie pitches the class depending on who turns up on the day.
Kelvin Glen, General Manager comments,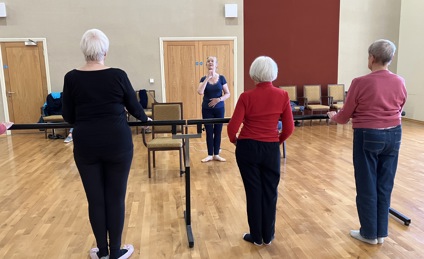 I'm delighted to have Julie and Martin in our community and I'm so pleased Julie has been able to share her passion with other residents. Elmbridge is filled with resident led activities and we are here to support anyone who decides to start a club or classes the best way we can.
Back to top