Jubilee concert in the ballroom for the residents
As part of the Jubilee celebrations at Cedars Village Chorleywood Orchestra & Choral Society perform a concert in the community ballroom.
The choral society has performed in the village previously and was very well received by the residents. This time they played traditional folk songs, hymns, and choruses including Land of Hope and Glory and A Life Filled with Grace – a song that was written especially for the Jubilee celebrations.  Tickets sold across the community raised funds for the Keech Hospice Care, a favourite charity of the choral society.
Colin Foulger, Village Manager, commented, "The concert was a fantastic way to celebrate the Jubilee in the village and a great way to reopen the ballroom, which has recently been refurbished."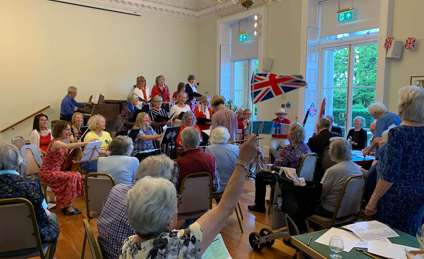 Back to top