I'm delighted with the way my father has settled into the community at Thamesfield
Jim Beales, 97, moved into Thamesfield during Covid. A difficult time for anyone to be making a move, but with support from the team and reassurance from his daughter Ann he couldn't be happier with the decision to move.
Jim chose Thamesfield, with support from his daughter Ann, as it enabled him to live independently but also be part of a community. The village and gardens on the banks of the Thames make it a wonderful and iconic location to spend your retirement. Jim felt welcomed by both the staff and residents alike, from the very beginning and has made a number of new friends.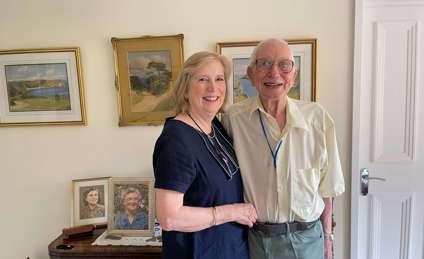 Aside from the stimulating company, Jim has got involved in a number of clubs in the community, participating in weekly activities organised by the residents' committee including bridge, quiz nights, and keeping fit. Although Jim is hard of hearing the community has been incredibly supportive and he enjoys the company of the other ladies and gentlemen at coffee time and tea time in the lounge.
He has taken advantage of the many on-site facilities with lunch in the restaurant and the one hours cleaning service available each week for residents. These extra services have allowed him to spend more time as he'd like to join cocktail afternoon and even take a trip on the community's very own boat down the River Thames.
His daughter, Ann, comments, "My father would agree that he has made a very positive move to Thamesfield and all his expectations have been exceeded. He immediately settled in well into the community and was made to feel very welcome."
Back to top