Gradwell Park plants a new tree for the 'Queen's Canopy'
Residents at Gradwell Park, part of Retirement Villages Group, have joined the 'Queen's Green Canopy' initiative by planting a tree on the grounds. Councillor Adrian Ross, Chair of Lewes District Council, attended the event and planted the tree on behalf of the residents at their Jubilee street party on Thursday 26th May.
The Queen's Green Canopy is a unique tree-planting initiative created to mark Her Majesty's Platinum Jubilee in 2022 which invites people from across the United Kingdom to "Plant a Tree for the Jubilee".
With a focus on planting sustainably, the QGC will encourage the planting of trees to create a legacy in honour of The Queen's leadership of the Nation, which will benefit future generations. 
Residents joined in with the digging of the hole and planting the oak tree planted near one of the walking meadows with an amazing view of the South Downs below. Afterwards, Gradwell Park enjoyed live music from a host of local singers, craft stalls, Tai Chi classes, workshops and bike riding down the nature trail to celebrate the Queen's incredible achievement.
Village Manager, Audrey Kelly said: "This is a wonderful initiative and fits in with our sustainability plans as a group, therefore when the residents asked, we of course said yes! It was a lovely occasion and a pleasure to have Councillor Adrian Ross plant the tree. We shall look forward to watching the tree grow and thrive in the years to come."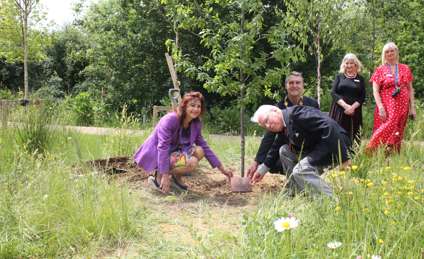 Back to top