Elmbridge Village wins South & South East in Bloom competition
The residents and team at Elmbridge Village are delighted to have won a gold award in the South & South East In Bloom competition.
This annual competition attracts entries from the counties of Kent, Surrey, East and West Sussex, Hampshire, East and North Dorset, and, East Wiltshire. It's a huge achievement for the team and all the residents involved. The Elmbridge community is blessed with an abundance of green space for its residents to enjoy. Covering more than 28 acres, this includes woods, a wildflower meadow, allotments, and various areas of more formal gardens.
The judges were very impressed with the meadow. This year lecterns were placed in the meadow, including identity photographs and a biography for six of the 19 varieties of butterflies known to visit the meadow - this is over half of the nation's species. Last year, the village gained a silver gilt award in its first attempt, so improvement has been made in one short year to achieve gold.
Judges also praised the landscaping around the clubhouse and reception area. In this area, you'll find Ben, the community's flowerpot man. Standing almost six feet tall, and originally built by one of the residents in the village, paid for by another senior gentleman resident, he can be found dressed for whatever community events might be going on around the village.  For the Jubilee, he was in the union jack colours and covered in bunting. For the judging, he was a Morris dancer!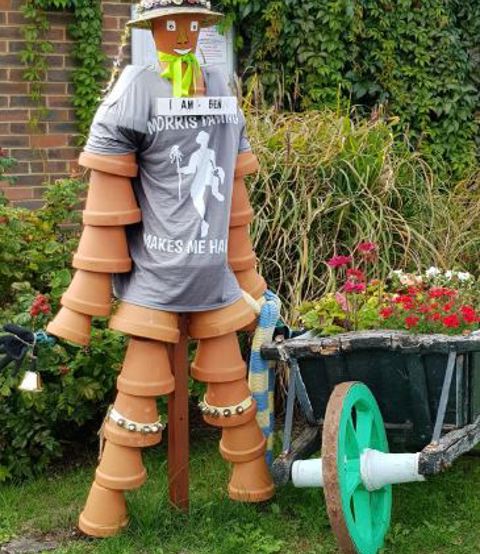 Finally, you have the allotments, a well-loved part of the community. Many residents are involved in allotmenteering.  There is a waiting list for the greenhouses! There is a huge amount of fruit, vegetables, and flowers grown for the residents, by the residents and shared amongst family, friends and neighbours.
Jane Briggs, chair of the Elmbridge Village Residents Association, and the driving force behind the awards commented, "I'm so proud of everyone involved in this project. The grounds team in particular pulled out all the stops for this and they maintain our grounds to a high standard all year round, not just for one day a year. This hard work adds to the colour and vibrancy of our wonderful village."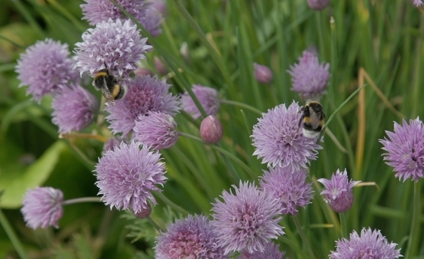 Back to top