For Charters Village resident Dorothy Creelman, every day can feel like a holiday.
"I participate in an enormous range of social events and activities, which keeps me active and helps me live each day to the fullest in my retirement," she explains.
However, Dorothy is keen to emphasise that life at Charters isn't all 'busy busy': "I enjoy relaxing in my beautiful apartment and taking daily walks around the beautiful grounds. We also have a new bar here, which we frequent for the occasional glass of wine. What's great about the bar is that it is just downstairs, we don't have to worry about designating a driver!"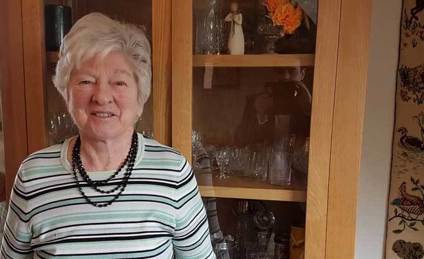 Dorothy, whose maiden name is Fraser, has an interesting story. She was born in Burma in 1935, where her father was an engineer until the outbreak of World War II. When the Japanese invaded the country in 1942, the Frasers found themselves trapped.
The family tried to escape on foot through the jungles but they were too late, the Japanese had already occupied the areas they needed to cross, so they had to abandon this attempt.
"My mother and I were lucky, we managed to get away on an RAF cargo plane," she explained. "But my father stayed behind with the other engineers to blow up industrial installations before the Japanese could put them to use. They were given army uniforms so they could pretend they were soldiers if caught, in order to avoid a firing squad!"
Eventually Dorothy's father escaped on an old barge and sailed it to Calcutta, surprising his wife and daughter by showing up on their doorstep in Pawpindi, Punjab in India six months later!
Dorothy met her late husband Clive at a party in London when she was 23 and they were married six months later. They lived together near Camberley, but after having three children they moved to a bigger house in East Grinstead. "Clive was a shipping executive and I was a district nurse, we were very happy," she said.
Eventually the children grew up but remained in the area and Dorothy has two grandchildren now.
Sadly, Clive developed Alzheimer's and became very poorly. Two of the couple's children came across Charters Village and suggested they have a look round, which they did.
Dorothy commented: "We loved Charters, it felt safe and secure plus all the staff and other residents were lovely. We bought a one-bedroom apartment in Charters Towers, the country-club style development within the village, and moved in."
Clive's condition worsened and he spent time in Charters Court Care Homebefore passing away peacefully.
"It was very sad but I am glad we made the move to Charters when we did as the staff in the care home were wonderful," said Dorothy. "They were very supportive and I am sure Clive was comfortable in his final days. For this I truly thank them. Charters Court is just a short walk from the apartment too, so it was good to be close to him."
Back to top