Debden Grange Community Post Office
During the summer of 2021, Debden Grange opened the doors to the outreach Post Office service in Newport.
The team at Debden Grange recognised just how important a Post Office is to a community and Newport had been without this service for over 18 months.
Located within the Clubhouse, the Post Office benefits our residents and everyone in the village of Newport greatly. A full range of Post Office products and services is available to everyone in Newport, not just those living and working at Debden Grange.

Open to ALL every Wednesday & Thursday between 9am – 12noon.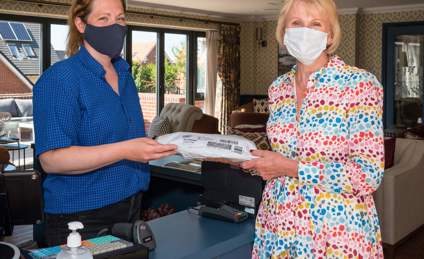 The service is being run by Richard Silcock who is providing this service on behalf on the Post Office. 
Since opening in the summer of 2021, the Post Office has become a hugely appreciated facility for the residents at Debden Grange.
Prior to opening at Debden Grange people from Newport had to travel much further afield to access a Post Office
Village Manager, Tom Lee said: "The Post Office has proven to be so well received and indeed well used by both residents and people from the local community.  It is such an important facility.  It is really useful for our residents, and was especially handy during lockdown when our residents had access to the Post Office service without having to leave the safety of our community.  Plus, having this on site means less time travelling to find a post office service and more time to make the most of activities!
I would also like to thank Richard Silcock, Postmaster for Felsted who is providing this service."
Back to top