Early residents look back over the first ten years.
David and Margaret Couzens were one of the first couples to move into Lime Tree Village back in June 2004.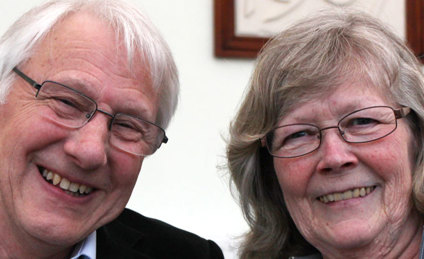 David was 61 and his wife Margaret was 57 when they made the move.  They had lived relatively locally but Margaret loved the concept behind Lime Tree Village and they bought one of the first bungalows.  David was still working as a financial adviser at the time but finally retired four years later in 2008.
"Lime Tree Village provided everything we were looking for – independence, support, security and peace of mind – and of course it means we have made lots of new friends as well as being able to maintain our social circle outside of the village," said David.
Their three children and seven grandchildren are regular visitors to Lime Tree Village. And David is an enthusiastic supporter of Coventry Bees speedway team, following them all over the country and even into Europe with his grandchildren.
"As some of the first residents in the village I took on the role of treasurer for the Residents Association and have been doing it ever since," said David.
The Residents Association has been hugely active and instrumental in organising events and setting up special interest groups to create a vibrant and healthy social life for all residents. It has re-invested funds to buy additional items for residents' use.
The village has matured during the first 10 years and the network of social groups and facilities has been continually extended.
"Some residents like to be incredibly active and get involved in lots of things while others prefer to pick and choose; others prefer to live entirely private and independent lives. That is fine," added David.
There is a winter ball; village choir; a Picnic in the Park-style jazz night; themed evenings; coffee mornings and a wide range of special interest groups including Tai Chi, keep fit, line dancing, painting, whist and bridge; and the allotments on site are now also proving very popular.
"The two key benefits of living here for us have been the social life and the peace of mind knowing there is someone here to help should we require it," added Margaret.
David and Margaret Couzens – one of the first couples to move into Lime Tree Village.
Back to top