Cedars Village is full of aspiring artists
Cedars Village has been running regular art classes for anyone in the community who would like to get involved.
The classes are run by residents, for residents. Several members of the community are artists themselves so keen to share their knowledge and passion with others. The classes are open to everyone, if you've painted your whole life or never picked up a brush before it doesn't matter. It's about getting involved, learning something new, and enjoying yourself. Many different types of painting and drawing have been covered and some people have completed woodwork sculptures and embroidery during the classes.
There Has been so many great achievements the community decide to put on an exhibition, dedicated to the class and members' artwork. The pieces were displayed in the ballroom with the creators name alongside and the exhibition was very popular amongst the residents. Many pieces of artwork are displayed in the clubhouse for all to enjoy.
Colin Foulger, Village Manager, comments,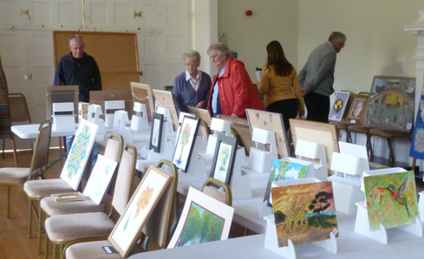 Art classes, organised by the residents, have been extremely popular. It's a pleasure to see residents coming together and enjoying a common passion. That's what community life is all about.
Back to top