Castle Residents James & Angela Wed
On 12th September 2021, Angela De Winter married James Cassidy at Hemel Hempstead registry office and celebrated with a party for relatives and friends followed by a reception in the Castle Mansion the following day.
There has only been one other wedding in the Village and that was when Brenda White married Ken Walker on 20th September 2011.  Village Manager Karen Rae said It is delightful to see another couple tie the knot. We wish Angela and James every happiness and send our congratulations."
Angela writes, "The 21st March 2020 is a date I shall not forget because it was the first day of lockdown and the date James and I were due to get married.  In the ensuing months, between various lockdowns, we tried to rearrange the date, and then at our 4th attempt, on Sunday September 12th, it finally happened.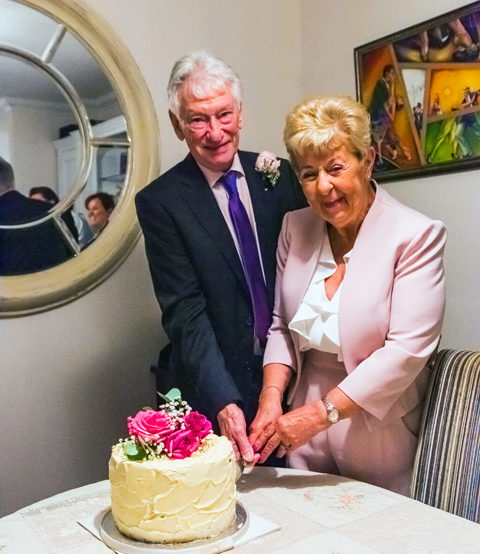 The sun shone early that morning, we were so lucky it was warm with no breeze, and did not rain.  Our photographer, Mike, James's son-in-law, took a few pictures of us separately in the garden, while our guests had coffee and biscuits in the Mansion.
They boarded a coach which whisked them off to Hemel Hempstead Registry Office and I followed with Mike.  We had met the Registrar over a year ago and she remembered us.  The service was conducted in such a friendly and relaxed way that it made it special.  Afterward, she said it was the best service she had ever conducted.  Then, we all boarded the coach which took us to our Reception.  Not to a hotel or traditional wedding venue, but to Waterways Experience.  This is a boatyard on a canal where they run charity trips in aid of disabled and underprivileged children.
The inside of the boat had been transformed into a pink and white wedding venue.  It looked lovely.  We had canapes on the jetty and then sailed down the canal going through 3 locks before turning back.  Our caterer Clare provided a fantastic meal from a minuscule gallery, and we arrived back at Castle Village at about 5.30.  Everyone then came back to the flat to watch us cut the cake and have a cup of tea.  Afterward, when they had all gone home, we sat and watched a recording of the US Open Ladies Final.
A fitting end to a very special day."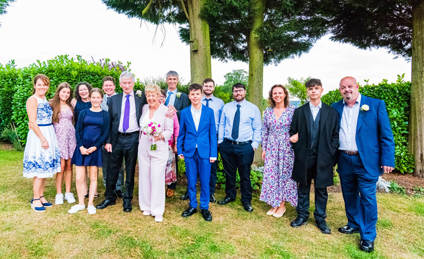 Back to top