Bob and Marion Butler – Lime Tree Village near Rugby
Copy link
Bob and Marion Butler spent many years retired in the South of England but finally decided to move back to Warwickshire to be closer to family.
The couple originally met in Coventry when Bob worked as a maintenance manager for Renault and Marion was a receptionist.
It was always a dream of Bob's to move closer to the coast when he retired, a few years before Marion, so their first move was to Bournemouth. Marion still enjoyed working and took up a post with the New Forest District Council. However, the town proved to be rather busier than they anticipated and so they found themselves on the move again, settling in a lovely bungalow in West Mores, Dorset.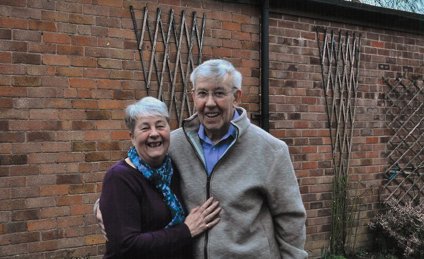 Here Marion worked as a cashier at the Halifax and enjoyed a very pleasant 20 years employment before retiring herself. Over the course of the next few years the Butler's decided that it was time to move again. Two of their four children lived in the Warwick area and now that they had both retired, they were looking to spend more time with family.
Initially the couple moved to a bungalow in Bilton, just outside Rugby. They hadn't thought about looking specifically for a retirement property because they both loved to work in their large garden and were avid caravaners, thoroughly enjoying trips all over the UK where they could meet new people and make friends.
Over a period of time, Bob and Marion began to think that their garden was becoming more of a chore than an enjoyment and the bungalow began to need more maintenance work, so they decided to look into finding a retirement property that would take away some of these concerns.
This active pair would often spend time walking in the local area and sometimes their walks would take them to Lime Tree Village and they decided to find out more about what the village could offer them. Keen to make sure that they were making the right decision, Bob and Marion paid many visits to the village over the course of eight months, attending the open days and making personal appointments to get a real feel for life in the village.
Marion said: "We actually went to look at some apartments in Solihull, but there were no parklands, nothing like what we have here at Lime Tree."
She continued: "We kept coming back to really experience village life. The open days allowed us to get a feel for the village and we explored the local area. It's good for anyone considering the move here to keep coming to visit and take a walk around. As we lived locally we didn't do the Try Before You Buy, but we think it would be really beneficial for someone from outside the area."
It didn't take long for Marion and Bob to make new friends.
"We love being with like-minded people, who want the best for the village. You really need to immerse yourself in village life to get the most out of it. It's a very social place, which we both really enjoy. We go to coffee mornings on a regular basis and we enjoyed watching the end of season croquet competition. I'm looking to join the whist club and having a go at carpet bags!" said Marion.
"We moved in on a Friday and I joined the bowls club in the first week. I felt it was important to get out and meet new people straight away."
Bob and Marion weren't entirely sure what type of property they were after initially, so they looked at three; two apartments and a cottage. In the end they opted for a deceptively spacious mid floor two-bedroom apartment.
Marion said: "Our apartment is fantastic. It's on the corner so has a dual aspect and we enjoy beautiful sunsets from our living room which has five large windows. We actually have more space here than we did in the bungalow in Bilton."
Marion and Bob are very happy that they made the decision to move to Lime Tree Village.
"The garden at the bungalow was becoming too much for us. It's lovely not to have to think about its upkeep anymore. It's very relaxing and quiet here and absolutely beautiful. We get to enjoy all of the beautiful parklands without any of the hard work and when you're walking around you feel like you own all of it."
Summing up her reasons for loving life at Lime Tree Village, Marion said:
"You feel very safe here and help is on hand if you need it, which is very reassuring. Our family is close by so we get to see our grandchildren more often and because everything is taken care of by the village there's no maintenance or upkeep to worry about – our time is our own."
Marion added: "Just make sure you do your research and find the right property for you."
Back to top