Birthday celebrations for Jim who turns 98
The riverside lounge at Thamesfield recently played host to Dr. Jim Beales's belated birthday celebrations. Jim turned 98 and wanted to celebrate with family and friends.
A birthday is a great time to get people together and celebrate, which is just what the residents at Thamesfield did when Jim turned 98 earlier this month. Jim invited several guests, including his daughter and all the residents to join in the celebrations.
With views over the River Thames, the lounge was chosen as the spot to host Jim's party and the kitchen whipped up a sumptuous selection of canapes including cocktail rolls, egg mayo vol a vent, brie, and, red onion chutney crackers, and, Jim's all-time favorite, devils on horseback. The guests also enjoyed a glass of refreshing champagne out on the terrace to toast Jim's big day.
Jim's daughter Ann, was delighted to be able to attend the event and meet some of the other residents. She had been unable to visit due to covid so enjoyed putting faces to names. She wrote to the village team after the events and commented, "A big thank you to you and your staff for the lovely cocktail party you organised for Jim. Thank you for all you and your staff are doing for him"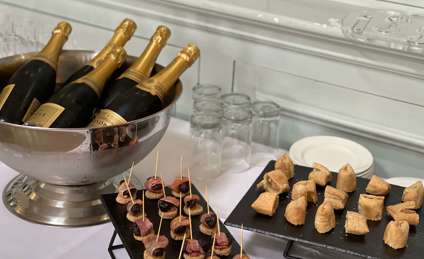 Back to top