A History of Thamesfield from Jim Bland
Our peaceful, riverside retirement community at Henley-on-Thames is an idyllic place to enjoy a laid-back retirement lifestyle. Jim Bland, a Thamesfield resident for a number of years, has been looking back at the history of the mansion.
Jim writes;
"Thamesfield, built in the 19th century, is just one in the group of mansions overlooking the River Thames which flows in a horseshoe loop from Wargrave, past Henley, Remenham, and on, downstream to Marlow, Cookham, and Maidenhead. Following the Land Act in 1799, the estate of Thames Fields was enclosed by the acquisition of common meadows, arable land, and gardens in Remenham Parish. By 1852 William Lamb was listed as the owner of the estate. The next recorded resident was Thomas Fox Alexander Byles, a brewer, who occupied the house for at least 10 years. He was followed in 1876 by a wealthy hop-merchant, Robert Arnold Cosier [1822-1886]. In 1891 Cosier's son sold Thamesfield to Sir John Edwards Moss .
Sir John Edwards Moss[1850-1935] was the grandson of John Moss who had been one of the founders of the Great West North Western Bank. Sir John's mother Amy Charlotte Edwards [1817-1882] was the heiress of the Edwards estate which became, by Royal License in 1851, 'The Edwards Moss Baronetcy of Roby Hall in Lancaster'. With this inherited wealth Sir John was educated at Eton where he excelled in most sports becoming Captain of Boats in 1869 winning the 'Ladies Plate' in the Henley Royal Regatta in1867,1868 and 1869. He took part in the Oxford and Cambridge Boat race in 1870 and 1871 while he was an undergraduate at Balliol College, Oxford.
He married Margaret Everilda Blackburn of Hale Hall, Lancashire in 1873. They lived at Roland House in Scotland before acquiring Thamesfield in 1891, where the Edwards Moss extended family occupied the house for the regatta weeks.  It is said that these functions, including the debutantes 'coming out' presentations for the London Season, were the social glue that bound country house owners together.
Once established in Thamesfield in the 1890's Sir John set about building glasshouses for cultivating tropical fruits and his extensive collection of orchids which exceeded 15,000 varieties. He lived at Thamesfield until 1935, enjoying a busy social life. After the death of Sir John Edwards Moss in 1935 the house stood empty.
It was saved in 1943 for use as a residential youth centre by benefactors Viscount Hambleden and Ernest Makowar, a local business entrepreneur. Much of the associated land was leased to the Sea Cadets, Eyot Centre and riverside boat centre. In 1984 Mr Graham Payne, then-Mayor of Henley bought Thamesfield for £500,000. His request for planning permission to replace it with a block of flats was rejected. He then sold it to Betty Williams who converted Thamesfield into a 36-bed nursing home in 1987. After visiting America in 1993 and discovering the concept of 'close-care' living Betty added 12 close-care apartments to the property. A further 12 apartments were added in 1996, opened by Michael Heseltine, the then MP for Henley."
Retirement Villages purchased the property in 2004 and established the integrated retirement community it is today. Residents, like Jim, benefit from a wide range of facilities on the site allowing them to live independently enjoying a laid-back retirement lifestyle, with the knowledge support is available should they need it.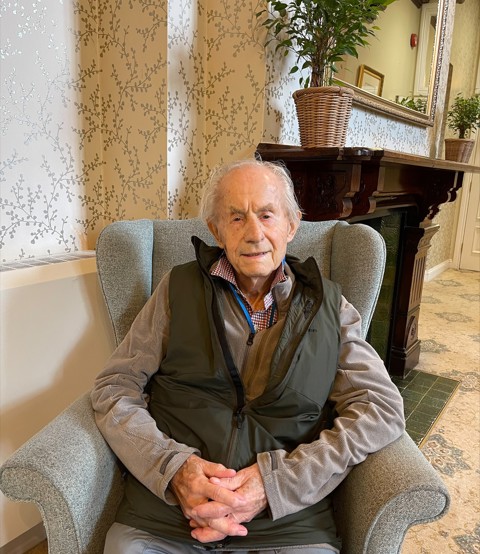 Back to top