Retirement Villages Group acquires development site in Kent
Retirement Villages Group (RVG), owned by AXA IM Real Assets, has acquired a new site in West Malling, Kent, to develop a new integrated retirement community as part of its ambitious 10-year growth plan. This follows the recent acquisition of another prominent site in central Tunbridge Wells, Kent, in December last year. 
At West Malling, near Maidstone, RVG has consent for 79 homes on a nine-acre site located on a site only ten minutes' walk from the town centre. The plan is to build a range of homes for the over 65s with integrated communal facilities - including a restaurant, lounge areas, leisure and healthcare facilities. 
This acquisition is part of RVG's plan to acquire, develop and operate 5,000 homes across 30-40 new developments in urban and peri-urban locations across the UK. The site is being developed in response to rising demand from those aged over 65 for a better quality of later-life accommodation, set close to town and city centres. RVG is moving towards creating schemes that are open and integrated with local communities, allowing its customers to stay connected to the places where they live, while breathing new life into UK town centres for the benefit of everyone living locally.  
The scheme will be delivered as 'whole life net zero carbon', the most rigorous standard of sustainable development which accounts not only for carbon created in the operation of the building but also carbon generated during the construction process. This will be the fourth scheme where RVG has committed to this gold standard, placing it at the vanguard of the residential sector's sustainability agenda.  
Will Bax, CEO of Retirement Villages Group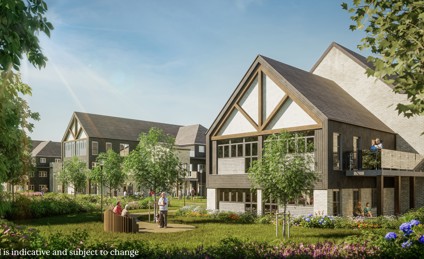 It's exciting to see our goal of building 5,000 new urban homes getting ever closer. As the Government commits itself to a key mission of improving healthy life expectancy, we will continue to pursue the same mission through concrete action, building state of the art schemes that keep residents connected to local communities
Back to top