"As MP she is still a very busy lady so finding time to call into Thamesfield was very good of her," explained Cheryl George, Village Manager.
Mrs May's visit served a dual purpose as she also met with Will Bax, CEO of Retirement Villages Group (RVG), and Gareth Lyon, Head of Policy and Communications for the trade body, Associated Retirement Community Operators (ARCO) to discuss the retirement communities model, the role they have to play in easing the pressures of our ageing society and what can be done to support growth of the sector.
Rt Hon Theresa May MP is no stranger to Henley's private retirement village, Thamesfield. She was Home Secretary when she last called in and talked about her work, travels and even her shoes! Much has happened in her political life since and so there was plenty to chat about when she popped in for coffee last week.
The Maidenhead MP listened to residents and answered questions whilst also chatting about life at Thamesfield and the benefits of living as part of an active community on the river.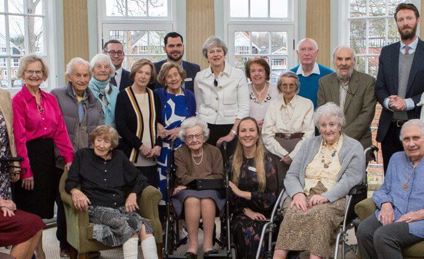 Speaking after the visit Will Bax said: "Mrs May is clearly a great supporter of the village and it was fantastic to welcome her back. She recognises that retirement communities, such as Thamesfield, provide a great lifestyle choice in later life with on-site care and an active community keeping people safe and active for longer.
"I hope that she will support the idea of a government task force to look at how to support the growth in retirement communities to meet the fast growing demand."
Speaking after the event, Theresa May MP added: "It was lovely to be back at Thamesfield. I know the village well and am delighted that it continues to be such a happy and vibrant community. Villages such as Thamesfield have an important role to play."
To arrange your own personal tour of Thamesfield please call 01372 383950.
Back to top