The smell of greasepaint, the roar of the crowd, and now the elegant swish of the curtains…
The community arts theatre in East Grinstead, Chequer Mead Theatre has an impressive new set of stage curtains, thanks to the area's new retirement village Charters Village.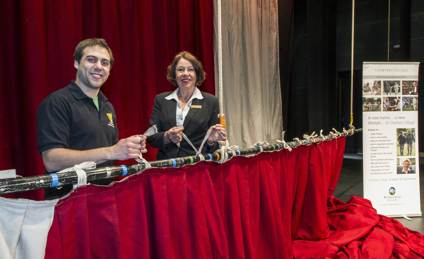 The stunning, burgundy velvet drapes adorned the stage of the Adeline Genee Theatre at the Bush Davies School for around 20 years. They were in place when Dame Margot Fonteyn danced at the opening Gala in the presence of HRH Princess Margaret. They continued to grace the theatre throughout hundreds of performances by pupils of the world-renowned school.
The school closed in 1989 but the curtain had one further outing. In October 2010, a reunion was organised by new owners of the site Retirement Villages Group Ltd. Former pupils were invited back before work began on transforming the 16 acre site on Felcourt Road into a retirement village.
During the afternoon they staged a final curtain call, performing the Grand Defile one more time. As the final bars of the dramatic music drifted away, the curtain fell.
Now it is to be given a new lease of life at Chequer Mead Theatre, used by dozens of local groups, clubs, musicians, performers, artists and actors – many of whom remember the Adeline Genee Theatre in its heyday.
"We are delighted to accept the curtain from Retirement Villages," said Technical Manager Will Perkins. "Many local people have been involved with both theatres over the years so it is a fitting tribute to the school that the curtain continues its life here."
Sarah Burgess is the Sales and Marketing Director for Retirement Villages, currently developing Charters Village. "We are delighted to have found such a fitting home for the theatre curtains. The Bush Davies School played a large part in the local community and remains part of the heritage of what is now Charters Village so retaining these links is really important to us."
Back to top