Why you should keep active in later life, plus our top five extreme pensioners
Copy link
Keeping active, both physically and mentally, is one of the most important keys to staying healthy as you age.
Part of this is maintaining social connections and regularly spending time with friends and family, or participating in groups and activities that facilitate social interaction and physical exercise. This helps keep your body limber and your mind sharp in later life, making for a relaxing and fulfilling retirement.
Most people in later life already on the case
According to a recent survey of 2,000 people carried out by the Royal Voluntary Service, many dynamic sixty somethings are already on the case with two thirds of those aged 60 to 69 planning to take up new hobbies or go travelling.
The study found that people no longer dread later life and 40 per cent of sexagenarians say old age does not begin until 85. Of the 2,000 surveyed:
38 per cent wanted to travel abroad
28 per cent said they were going to get fit
18 per cent planned to do volunteer work
9 per cent were keen to learn a practical skill
Of those surveyed, a third stated they intend to embrace their 70s and nearly a fifth said they felt proud of their age.
Top five extreme pensioners
Indeed, some pensioners are even more adventurous, choosing to discover extreme or unusual hobbies to keep them busy in later life. We thought it would be fun to list our top five favourites below. Who knows, it may give you some ideas!
1. Superstar DJ:
After 68-year old Briton Ruth Flowers lost her husband of forty years her life fell apart. However, while helping her grandson organise a party she enjoyed the energy and atmosphere as it reminded her of her younger days. Imagine the surprise of her friends and family when she announced she wanted to try something different and become a club DJ!

Ruth was introduced to a young French producer named Aurélien Simon who taught her to DJ and helped build her image. She developed her own mixing style and pretty soon played her first gig to a packed out crowd of celebrities, including Mariah Carey and Lenny Kravitz at the 2009 Cannes Film Festival at the Villa Murano.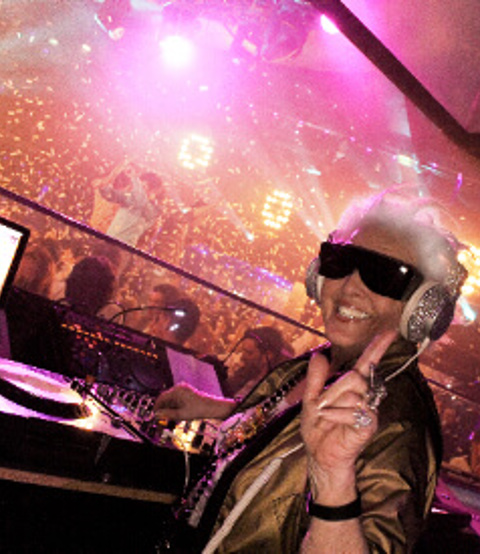 Adopting the pseudonym 'Mamy Rock', Ruth went on to play in clubs all over the world, produce three singles and appear on radio and television. Sadly she passed away in 2014 aged 83, but what a great story!
2. Expert skydiver:
Montserrat Mecho, 79, is a grandmother who just loves to jump out of planes… with a parachute of course! She has completed thousands of free fall skydives and is happiest in the air. As if that wasn't enough, Montserrat has also broken records in swimming and is also a downhill skier, diver and windsurfer.
While we're on the subject of skydiving Pat Moorhead, who spends much of his time travelling around the world with his wife, celebrated his 80th birthday by performing 80 skydives in a row without stopping!
3. Skateboarding enthusiast:
When Lloyd Kahn turned 65 he tried skateboarding for the first time and unfortunately fell straight off and injured his hand. Never one to quit however, he strapped on full protective gear including a helmet, knee pads, reinforced gloves and elbow pads, before getting straight back on. Now as he approaches 80, Lloyd is still skateboarding and has no plans to slow down.
4. Award-winning pole dancer:
65-year old Greta Pontarelli was diagnosed with osteoporosis two years ago, a condition that destroys bone density. To help keep her strength up doctors instructed her to participate in some form of strenuous physical activity. She began lifting weights, but found this too boring and started pole dancing.
Greta went from strength to strength and in 2014 won first place in the pole sports world championship. She is now an internationally ranked pole artist and competes all over the world. Greata emphasises that pole dancing is great exercise and one enjoyed by many people of all ages.
5. World's oldest ballet dancer:
John Lowe from Ely, Cambridge is 96 and didn't take up ballet until he was 80. He has an interesting past, surviving a Japanese prisoner of war camp during WWII and practices his art every day in his makeshift dance studio at home. John often competes but when he turned 90 his family forbade him from leaping and turning 360 degrees in mid-air.
Back to reality
These extreme and unusual stories are interesting, inspiring and prove that people in later life can stay active in almost any way they want to. Of course in reality many of us don't feel the need to go to these lengths to stay active and prefer less-intensive pastimes.

These include boules, painting, yoga, book clubs, listening to music, walking, croquet, bridge, bingo, lunch clubs, debates, light exercise classes, line dancing, film clubs, coffee mornings and tai chi. However, the ultimate objective, staying healthy in later life by keeping physically and mentally active, remains the same.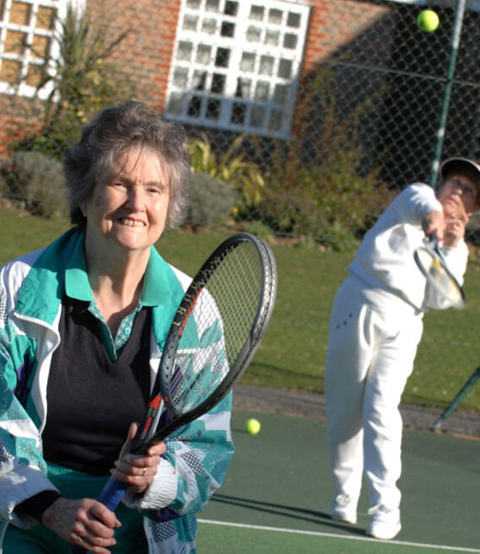 You can partake in all the activities above and many more at our retirement villages and many of the groups and activities are organised by the residents themselves. Here are a few choice picks:
The town of Taunton, where Blagdon Village is located, is twinned with Lisieux in Normandy. The Blagdon boules team joined the official Civic party on a four-day visit to play against the locals and join the festivities. They enjoyed an official reception, a big Service of Remembrance, a late dinner with entertainment and a lovely picnic in the grounds of a beautiful chateau. Unfortunately the other team won but our residents had a wonderful time!
Castle Village in Berkhamsted has its own tennis court, which is regularly used by residents to keep fit and have fun in the process. Check out the photos below!
A tai chi class organised by residents at Lime Tree Village is well attended and helps keep people active, as well as giving them an opportunity to socialise with a cup of tea afterwards.
Recently our residents at Elmbridge Village came together for an Italian night. They decorated the dining room in the colours of Italy and enjoyed the country's traditional food dishes and wine.
Last year Cedars Village hosted a special Halloween night, where staff and residents alike donned gruesome costumes and enjoyed a party with a special spooky spread.
A number of residents at Charters Village set up an indoor carpet bowls club that runs on Fridays and Saturdays.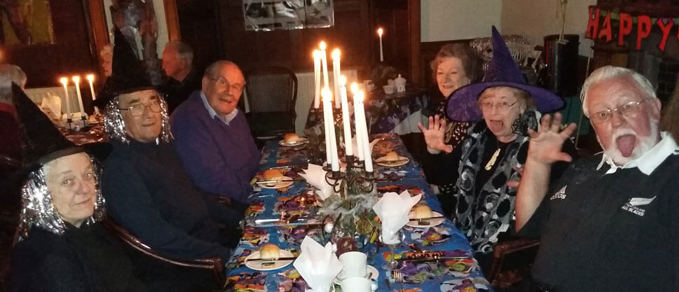 Each of our retirement villages has a varied programme of activities for you to dip in and out of as and when you please. So if you are retired or about to retire and think the retirement village lifestyle might be for you, do ask about this when you go and look round. Our staff, and indeed our residents, will only be too happy to fill you in.
Back to top