Debden Grange chef, Gordon shares his favorite Christmas recipe - Baileys Panna Cotta Recipe
Ingredients (serves 10)
1 Litre of Double Cream
300ml Milk
200ml Baileys ( or chosen spirit)
200g Sugar
5 leaves of Gelatine
1 teaspoon of Vanilla extract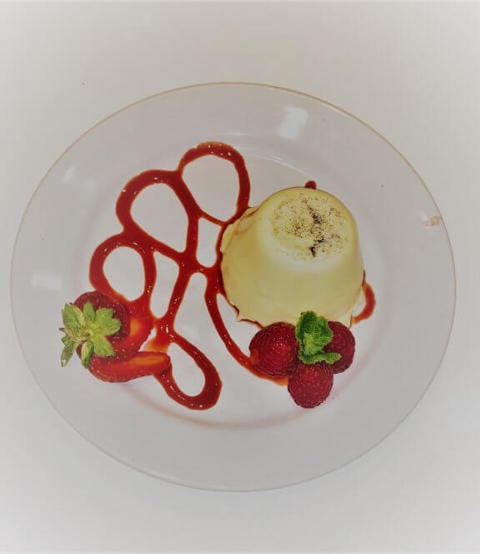 Method
Dissolve Gelatin in cold water.
Place the cream, milk, baileys, sugar, gelatin and vanilla into a saucepan on a medium heat and let it bubble slightly and turn into a smooth liquid.
Pour the liquid into a sieve to remove any lumps.
Pour the liquid into either small molds or into small glasses.
Let this chill for 24 hours in the fridge.
For the raspberry drizzle
200g of Raspberries
1 or 2 tablespoons of icing sugar
Whisk frozen raspberries and icing sugar together, pour through a sieve to remove the pips and spoon either into the small glasses or onto the side of the plate.
For the white chocolate sauce
100g white chocolate
250g double cream
Warm the double cream in a saucepan on a low heat, add the chocolate and turn into a smooth liquid. Allow to cool and then drizzle over the dessert or add a small amount to the small glasses.
Back to top