Chemical-free cleaning products across the whole portfolio to further sustainability ambitions
Our ambitious sustainability strategy means we have to continuously work and evolve our operations to help us hit our targets. Our three-pillared approach sees us set targets planet, circularity, and social objectives. Some of the most ambitious goals sit within the planet pillar, where we aim to become a regenerative business. The objectives include:
We'll be net-zero carbon on our operations by 2030
Our supply-chain will be net-zero carbon by 2030 and we'll support our residents to be by 2035
We'll regenerate biodiversity up to 20% across all our new communities by 2025
Working towards net-zero carbon by 2030
As we move towards this goal we've taken a number of steps in the way we support our residents in cleaning their homes. Cleaning is one of the services many residents in our communities enjoy. It takes the stress and pressure of having to do it yourself away from them and gives them time back to enjoy the retirement lifestyle they chose.
We have over 2,000 homes across the portfolio and growing. Even small steps in the cleaning and maintenance of those homes can go a long way towards helping us achieve our goal. To this end, we're working with a new solution supplier of chemical-free cleaning products, Tersano.
Our chemical-free approach
 We've built a partnership with Tersano to help us achieve our chemical-free approach. As a leading supplier of chemical-free cleaning solutions, they have developed advanced technologies that mean harsh chemicals are no longer required in the cleaning process. The elimination of these chemicals helps to improve the health of our planet and all those who live on it, something that reasonates with us and our sustainability goals.
We began a trial of the solution in our Gradwell Park community just over 18 months ago. The solution uses an SAO(Stabilised Aqueous Ozone) Dispenser which simply takes existing cold tap water and oxygen from the air around us to create an all-in-one solution, approved for sanitising for up to 24 hours and cleaning for six days. Backed by scientific research this simple-to-use solution is making a huge difference to our communities.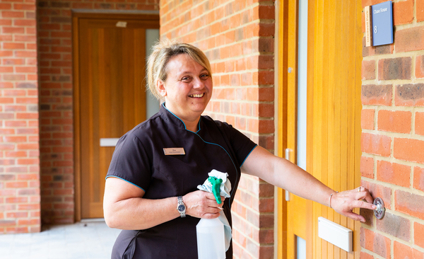 Benefits for everyone
With no transportation, storing, or mixing of chemicals there's zero impact on the planet and community around us. Our professional housekeeping teams are able to create the correct quantities of solutions each day without the worry of running out or ordering additional supplies, so there's no transportation costs either.
As it's an all-in-one solution it works across a multitude of situations and we are able to use it in residents' homes as well as the shared communal facilities. Our teams have reported the solution is easy to use and produces great results. Nick Jones, Operations Director, comments,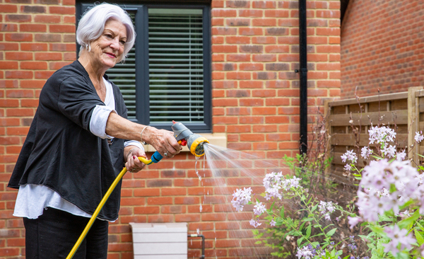 We are working to create sustainable operating procedures and solutions across the business. I'm pleased we've been able to remove harmful chemicals from the cleaning and maintenance operations. These small steps will build and create safer and healthier communities for our staff and residents, part of our long term sustainability goals.
Back to top